It could be because of Tarik Cohen's diminutive size, the video that went viral of him catching two footballs while doing a backflip, or maybe just his explosiveness on the field.
Whatever the case may be, the dynamic rookie running back has clearly emerged as a fan favorite at training camp, routinely drawing the loudest cheers when he makes a play during practice.
"I love it," Cohen said. "It's great. It's like a confidence builder. It's like more people being behind you, then that makes me want to make more plays because I know I'm going to get the oohs and the ahhs, so it's kind of like showing off a little bit."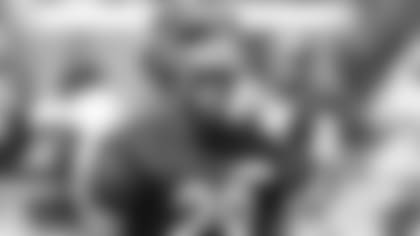 Bears rookie running back Tarik Cohen takes a break during drills at training camp.


Selected by the Bears in the fourth round of the draft out of North Carolina A&T, the 5-6, 181-pounder earned the nickname "The Human Joystick" for his video game-like moves in college. Cohen has continued to display those spins, twirls and dipsy-dos in training camp practices.
"I feel like it's from many years of backyard football," Cohen said. "When it happens in a game situation, there's just reaction, so I'm just out there having fun and then if a spin move pops out, then it's a spin move, and if three more follow it, then that's how it happens."
Cohen wasn't just flashy at North Carolina A&T; he was ultra-productive, becoming the all-time leading rusher in Mid-Eastern Athletic Conference history with 5,619 yards and setting school records with 6,564 all-purpose yards and 61 total touchdowns.
The Bears project Cohen as a third-down "joker" back who possesses a different skill set than starter Jordan Howard and can create match-up nightmares for opposing defenses.
"I'm feeling very comfortable and in our offense the coordinator (Dowell Loggains) and coach [John] Fox have really put me in the perfect position matchup-wise to be able to showcase my speed, agility and quickness," Cohen said.
"I'm looking forward to contributing to the offense. I know [Howard] is going to be a major key in the offense, and I'm looking to put my part in as well."
If Cohen does play on third downs, he'll no doubt be asked to pass block at times. Working on that in practice, he's learning the importance of maintaining good body position and discipline, knowing your keys and being fundamentally sound.
"You have to have your head back," Cohen said. "With the strong linebackers we have, if you're leaning too far in, they're going to snatch you and go right by you."
Cohen also hopes to contribute as a return specialist. He returned punts and kickoffs in high school but was not used in that capacity in college because North Carolina A&T had a talented returner in Khris Gardin and coaches didn't want to risk getting their star running back injured.
Cohen did return one punt last season after Gardin was injured against Bethune-Cookman. The Bears rookie brought it back 67 yards for a touchdown, but the play was nullified by a penalty.
Cohen conceded that he will have to adjust to the speed of NFL gunners, but he's confident in his ability to field punts after consistently working on that aspect of the game in college.
"It's not something I did a whole lot of in the games," Cohen said. "But every day in practice I was doing them, so catching them is not really a hard thing for me."
Cohen takes pride in his versatility and hopes to replicate the type of role that Tyreek Hill filled as a rookie last season with the Chiefs when the speedy receiver scored 12 touchdowns—six on receptions, three on runs, two on punt returns and one on a kickoff return.
If Cohen is able to accomplish that, the cheers from Bears fans will become even louder.