The College Sporting News has named its NCAA Division I Football Championship Subdivision (FCS) offensive player of the year award after former Bears running back Adrian Peterson.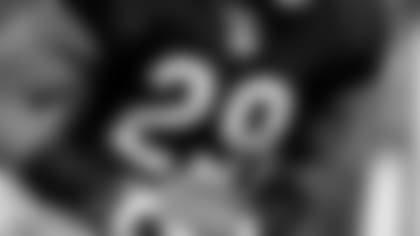 Adrian Peterson rushed for 1,283 yards and was a top special teams player during eight seasons with the Bears from 2002-09.
After playing four seasons at Georgia Southern University from 1998-2001, Peterson remains the all-time leading rusher in NCAA Division I history with 9,145 yards on 1,378 carries. In 57 career games, he rushed for 111 touchdowns and averaged 160.4 yards per contest.
Peterson won the Walter Payton Award as the best player in Division I-AA as a sophomore and finished among the top three vote-getters in each of his other three seasons. During his career he led Georgia Southern to two championships and four playoff appearances. Peterson left the school with 25 league records and 16 NCAA Division I marks.
The NCAA divided Division I into I-A and I-AA in 1978 and renamed the two groups the Football Bowl Subdivision (FBS) and Football Championship Subdivision (FCS) in 2006. Unlike the FBS, the FCS conducts a 24-team playoff tournament to determine a champion.
Peterson, who is not related to the Minnesota Vikings star with the same name, spent his entire eight-year NFL career with the Bears from 2002-09 after arriving as a sixth-round draft pick.
He appeared in 106 games with six starts, rushing for 1,283 yards and eight touchdowns on 311 carries and catching 78 passes for 665 yards. He established career highs in all rushing categories in 2007 when he started five games and ran for 510 yards and three TDs on 151 attempts.
Peterson was inducted into the Southern Conference Hall of Fame in 2009 and the Georgia Southern Hall of Fame in 2012. He recently wrote a book entitled, 'Don't Dis My Abilities' about his struggle with a speech impediment, and is donating a portion of the proceeds to fund a scholarship at Georgia Southern.
The winner of the 2013 Adrian Peterson FCS Offensive Player of the Year Award was Eastern Illinois quarterback Jimmy Garoppolo. who threw 53 touchdown passes in 14 games.