CHARLOTTE, N.C. - When defensive tackle Henry Melton exited Friday night's 24-17 preseason-opening loss with a concussion, reserve Nate Collins stepped in and stepped up.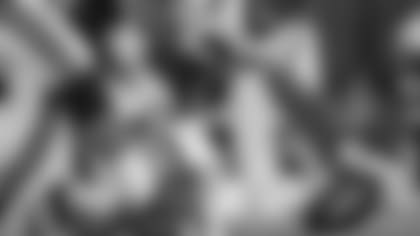 Nate Collins prevents Panthers running back Kenjon Barner from recovering his own fumble Friday.
Collins recorded the Bears' only sack of the game, tied for the team lead with four tackles, and teamed with Lance Briggs to drop running back DeAngelo Williams for a one-yard loss.
Collins was pushing for playing time even before Melton was injured. The 6-2, 296-pounder joined the Bears in 2012, appearing in nine games and recording 13 tackles.
Coach Marc Trestman said after the game that Melton is day-to-day and will go through the protocol required by the NFL for all players who are diagnosed with concussions.
Long-snapper Patrick Mannelly and running back Harvey Unga both left Friday night's game with rib injuries. Mannelly was hurt when he absorbed a brutal blindside hit while covering a punt midway through the first quarter. He remained in the game through the first half before exiting.
Sack attack: The Bears yielded seven sacks in Friday night's game, with five coming in the second half when both teams were playing with second- and third-teamers.
The only sack the No. 1 offense surrendered on three first-quarter possessions came when right tackle J'Marcus Webb was beaten by Panthers defensive end Charles Johnson.
After opening all 16 games at left tackle each of the last two seasons, Webb was moved to right tackle during the offseason following the signing of free agent left tackle Jermon Bushrod. Up and down in training camp, Webb is not assured of a starting job this season.
"He's in a competition; we've told him that he is," said coach Marc Trestman. "I said earlier in the week I didn't hide from the fact that he's had very good days and not so good days. He hasn't been as consistent as we'd like, and we'll look at the tape and see where he is.
"But when he's on his game, he can be very good. I know [assistant coaches] Aaron [Kromer] and Pat [Meyer] are working hard to create an environment for him that he's more successful."
One chance: Devin Hester got one touch in the preseason opener, returning a kickoff 23 yards after the Panthers had taken a 7-0 lead early in the first quarter.
"We just wanted to get him out there and get him a couple of shots," Trestman said. "I was excited to see him return the one kick and it was very close. It was really one block away, from my angle, to breaking it. I'm just excited for him and what he brings to the table as the season moves on.
"He's getting good work in practice. We're doing our returns almost at full speed keeping everybody up and we're getting a good look at him and how explosive he really is."
On Hester's return, he brought the ball out from nine yards deep in the end zone.
"We left it up to Devin," Trestman said of the decision to forgo a touchback. "We wanted him to return a kick tonight and get a feel for it and get back into it and I think we got a lot out of that. We're on the edge of our seat when he's bringing it back because big things can happen."
On the sideline: Bears players who did not dress for Friday night's game were receivers Brandon Marshall (coach's decision) and Earl Bennett (concussion), defensive ends Julius Peppers (coach's decision) and Corey Wootton (calf), nickel back Kelvin Hayden (hamstring), tackle Jonathan Scott (knee), middle linebacker D.J. Williams (calf), tight end Kyle Adams (hamstring) and defensive tackle Jamaal Anderson (knee).