The Bears continued to re-sign their own players in advance of free agency, agreeing to one-year contracts Sunday with defensive tackle Nate Collins and quarterback Jordan Palmer.
Collins appeared in the first five games with two starts in 2013 before suffering a torn ACL in a Week 5 loss to the Saints. The 6-2, 296-pounder was placed on injured reserve after compiling a career-high 13 tackles, one sack and three quarterback hits.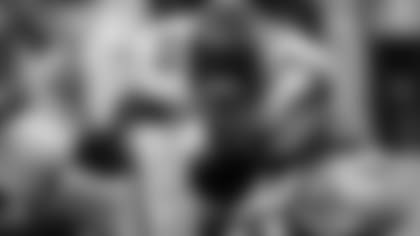 Bears defensive tackle Nate Collins missed the final 11 games last season with a torn ACL.
Collins entered the NFL in 2010 with the Giants as an undrafted free agent from Virginia, where he roomed with Rams defensive end Chris Long, the older brother of Bears tackle Kyle Long.
Collins has appeared in 27 NFL games with two starts over four seasons with the Jaguars (2010-11) and Bears (2012-13), recording 34 tackles, 1.5 sacks and two tackles-for-loss, two pass breakups and one fumble recovery.
Palmer originally signed with the Bears on Aug. 16, 2013 after third-string quarterback Matt Blanchard broke his hand. Palmer appeared in two preseason games, completing 12 of 18 passes for 116 yards with one touchdown and a 103.0 passer rating.
Palmer was cut before the start of the regular season, but he was re-signed Oct. 28 after Jay Cutler suffered a torn groin muscle in a Week 7 loss to the Redskins. Palmer spent the final nine weeks of the season on the Bears' 53-man roster, but he did not appear in a game.
Palmer has appeared in four NFL games-all during three seasons with the Bengals from 2008-10-completing 10 of 15 passes for 49 yards and two interceptions.
Since late December, the Bears have re-signed 12 players who were due to become unrestricted free agents at 3 p.m. Tuesday, most in the NFL. Collins and Palmer join quarterback Jay Cutler; center Roberto Garza; kicker Robbie Gould; cornerbacks Kelvin Hayden, Tim Jennings and Derrick Martin; defensive tackle Jeremiah Ratliff; tight end Dante Rosario; guard Matt Slauson and fullback Tony Fiammetta.