With defensive tackle Henry Melton out for the season after tearing his ACL in Sunday night's win over the Steelers, Nate Collins is expected to move into the Bears' starting lineup.
But that doesn't mean that he will alter his mentality. The fourth-year pro has already been contributing this season, recording seven tackles while part of a rotation at the position.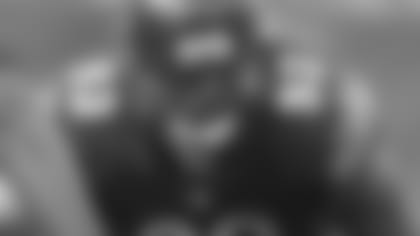 Defensive tackle Nate Collins is in his second season with the Bears.
"Nothing really changes for me," Collins said Wednesday after practice. "I'm just going to be out there first when the game starts. I have to read my keys and continue to help this team win, stay in my gap and do what I do every week; just go out there and play hard, run to the ball and be physical."
That's exactly what Collins has done since signing with the Bears a year ago. Appearing in nine games last season, he compiled 13 tackles on defense and one stop on special teams.
On the Steelers' first possession after Melton was carted off the field Sunday night, Collins made plays on back-to-back snaps, registering a quarterback hit on Ben Roethlisberger and dropping running back Jonathan Dwyer after a two-yard gain.
"He's a high-effort guy, a high-energy guy," said defensive coordinator Mel Tucker. "He's got a relentless mentality. He has a good pad level. He's got a chip on his shoulder. I really like him."
Tucker should know. He worked with Collins before either of them joined the Bears, serving in the same capacity with the Jaguars during the defensive tackle's first two NFL seasons.
After spending part of his rookie year on the Giants' practice squad in 2010, Collins was signed by the Jaguars late in the season and appeared in one game. In 12 contests as a reserve with Jacksonville in 2011, he recorded 10 tackles, half a sack and one fumble recovery.
"Coach Tucker is a guy who's always been on me, even since I was in Jacksonville," Collins said. "As soon as I got there he told me he liked the way I always hustle and try hard, and that's like half the battle with trying to get guys going. He's put it in my head that if you can rush the passer, you can always find a job in the league. He's always been on me; he stays on me. He's been the same guy ever since I met him in Jacksonville."
While Tucker may be the same guy, that's not necessarily true of Collins.
"He's come a long way," Tucker said. "He's done a great job. He's very dedicated. Football is very important to him. His teammates are very important to him. He works hard each and every day to get better and he has improved."
Part of that improvement can be attributed to working with the No. 1 defense for about a month during training camp and the preseason when Melton was sidelined due to a concussion.
"[Collins] has played a lot of snaps for us and he's stepped up big this year and now he takes the role as a starter and I'm excited for what he can do," said defensive end Corey Wootton. "A lot of people don't realize how quick he is. He's really active with his hands. He gets good pressure."
As they prepare to visit the Lions Sunday for a crucial NFC North showdown in Detroit, the Bears are counting on Collins to make plays against both the run and the pass.
"No. 1 is you've got to have the right fits in the run game," said coach Marc Trestman. "You've got to make sure you're aware of what your assignments are on twists and different kinds of coordinated rushes that we have. That's critically important. Nate's done that.
"He's been in there since the OTAs. He's familiar with what we're trying to accomplish and he's an active player. He's got a high motor, he moves around well and we expect he'll do well."