The following is the seventh of nine position previews in advance of training camp.*
With only perennial Pro Bowler Lance Briggs assured of a starting position, the competition at linebacker figures to be intense this summer at Bears training camp.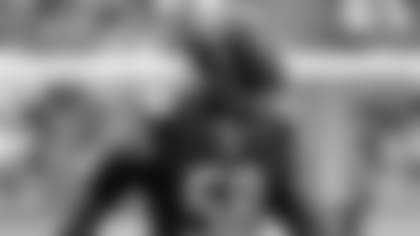 D.J. Williams was limited to six games in 2013 after being sidelined with a ruptured pectoral tendon.
Top candidates for the other top spots include veteran D.J. Williams, converted defensive end Shea McClellin and second-year pros Jonathan Bostic and Khaseem Greene.
During minicamp in June, coach Marc Trestman revealed that Williams was the frontrunner for the middle linebacker position.
"I'm just hoping he can be 100 percent," Trestman said at the time. "He's had an offseason to work. He's been out there competing hard, and when he's playing well, it's visibly noticeable in terms of what we can do with the middle linebacker position. But we have competition there. He's certainly the lead dog there, but we do have competition."
Williams joined the Bears last year after spending his first nine NFL seasons with the Broncos. After missing the entire preseason with a calf injury, he rebounded to perform well as the starting middle linebacker early in the year. But the 6-1, 242-pounder was lost for the season with a torn pectoral muscle in a Week 6 win over the Giants.
Williams is being pushed most notably by Bostic, a 2013 second-round draft pick who registered 75.5 tackles, 4.5 tackles-for-loss, one sack, one interception and one forced fumble while appearing in all 16 games with nine starts last year as a rookie.
"[Bostic] is working at all three different [linebacker] positions and certainly the 'Mike' position," Trestman said. "He's competing at a really high level and has worked really hard and is right in the mix, no doubt about it."
Looking to take advantage of Bostic's natural instincts, defensive coordinator Mel Tucker has changed some of the linebacker's responsibilities in the system.
"We're slowing his progressions down a little bit in terms of his run fits," Tucker said. "We're asking him to stay square a little bit longer and just mirror the ball, fill when needed and then fall back when needed. So I think that's allowed him to be more of a natural linebacker off the ball.
"I think Bostic is a lot more comfortable in what we're asking him to do. He's a lot more consistent. He plays fast. He looks like he's having fun. I don't see a lot of frustration with him in terms of what he's been asked to do and why."
McClellin, meanwhile, has been moved to linebacker after spending his first two seasons with the Bears at defensive end. Tucker says he's "super confident" the transition will be a successful one.
"We want to be big and physical, and he goes from being the smallest guy in the defensive line room to the biggest guy in the linebacker room," Tucker said. "He's very athletic. He looks at home. He looks very comfortable. When you go back and look at some of his tape from Boise State and the Senior Bowl, he looked comfortable in a two-point stance as well as in space as a rusher and in coverage. He'll tell you that he's comfortable doing that."
One player to watch in training camp will be undrafted rookie Christian Jones, an athletic, fast and physical four-year contributor at Florida State, where he played a variety of different positions.
Regardless of who wins the other two starting jobs, the Bears' linebacking corps will be strengthened by the return of Briggs, who missed seven games last season with a shoulder injury after sitting out a total of just four contests in his previous 10 seasons with the Bears.
The Bears' starting weakside linebacker since the fourth game of his rookie year in 2003, Briggs has been voted to seven Pro Bowls since arriving in Chicago as a third-round pick from Arizona.