Free-agent tackle Tom Compton officially signed a one-year contract with the Bears Monday after also attracting interest from the Falcons, 49ers and Lions.
The 27-year-old played for Kyle Shanahan when he was offensive coordinator with the Redskins in 2013 and again with the Falcons last year. The 49ers recently hired Shanahan as head coach and explored the possibility of signing Compton before he chose to join the Bears.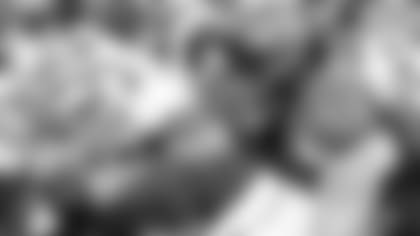 New Bears tackle Tom Compton played in all 16 games with the Atlanta Falcons last year.


"Just the chance to compete, that was kind of a big thing coming out here," Compton said Monday during a conference call with the Chicago media. "I really want just a chance to show that I can play and hopefully bring some wins to the Bears."
Compton isn't sure yet what his role will be this season.
"I don't know any specifics at this point," Compton said. "I know they'll be trying to plug me in wherever, see where I kind of fit in here. I'm kind of excited to see what will happen there. But I'm not too sure of what their plan is yet."
Compton is eager to join a line that includes Pro Bowl guards Josh Sitton and Kyle Long and center Cody Whitehair, who was named to the NFL All-Rookie Team last year.
"It's really exciting to be able to play with these guys," Compton said. "We've got a great line here, [with] a lot of well-known guys, Pro Bowl guys. So it's going to be a great experience."
Compton arrives after spending his first five NFL seasons with the Redskins (2012-15) and Falcons (2016), playing in 60 games with 10 starts. The 6-5, 314-pounder was selected by Washington in the sixth round of the 2012 draft out of South Dakota.
Asked to identify his greatest strength, Compton said: "My athleticism I'd say; my ability to move around. I feel like I play pretty well in space. That's a big reason why I'm still around."
Compton started nine games in 2014 and two contests in 2015 for the Redskins before playing in all 16 games as a reserve with the Falcons last season. He was part of an Atlanta team that blew a 28-3 second-half lead in a 34-28 overtime loss to the Patriots in Super Bowl LI.
"It was definitely exciting, a great experience," Compton said. "Obviously we would have liked to have got the win there. But the whole week leading up to it, I'll never forget that. It's just kind of the pinnacle of the season there where we're battling and it's just like a total commitment to the team and the camaraderie is at its highest, so it's something I'll never forget."