Practicing without restrictions Thursday, Bears safety Chris Conte completed his concussion protocol and was cleared to play in Sunday's season opener against the Buffalo Bills.
"It's great, just kind of what I've been waiting for ever since last season ended," Conte said, "getting another opportunity to go out there and play football and prove myself."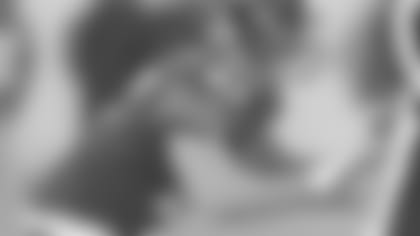 Last season safety Chris Conte started all 16 games for the first time in his career with the Bears.
Coach Marc Trestman said the Bears plan to play Conte Sunday but won't determine whether he'll start until after Friday's practice. Regardless, the fourth-year pro is expected to be part of a rotation that also includes Ryan Mundy and Danny McCray at the two safety positions.
The Bears understand that conditioning could be a factor with Conte. He missed the team's entire offseason program and the first two weeks of training camp while recovering from shoulder surgery and then suffered a concussion in his only preseason game Aug. 22 in Seattle.
"That's why we're going to rotate safeties," Trestman said. "We'll see where he is as the game moves along. We feel good about the fact we've got guys we can move in there. That's kind of the approach we're going to take. It would be [the same] with anybody who is coming off this type of situation, who hadn't had a lot of training camp."
Conte, 25, is thrilled to be healthy again after spending most of the last eight months on the shelf, a period of time that he acknowledged required "a lot of patience."
"You've just got to learn to take it step-by-step and know that it's going to be a process, and just kind of put all your effort into what you're doing," Conte said.
"When I was rehabbing, just focus on rehab and doing all that stuff. When I'm in the meeting room, just focus on the mental aspect of the game. You can't really get frustrated with not being on the field. You've got to focus as much as you can on the things you're doing day-by-day."
Conte thought he had cleared the injury hurdle when he returned to action against the Seahawks. Displaying excellent instincts and athleticism, he delivered a jarring hit on tight end Luke Willson in the back of the end zone just as the ball arrived, knocking it loose to prevent a sure touchdown.
"The one hit in Seattle showed me something there that he comes back, he wanted to tackle and make plays," Trestman said. "He's going to continue to get better as the season moves forward. But he's been cleared to go and he's had good practices. We're looking forward to seeing him out there this week."
Asked about the hit on Willson, Conte said: "That's why you play football. You want to go out there and hit people and make plays, so it definitely felt good.
"It felt really good to be back out there and playing fast and I can't wait to be out there again and hopefully get the opportunity to make some plays."
Conte is well aware of the criticism he's received since struggling last season, but he isn't concerned about the reception he'll get when he steps on the field Sunday at Soldier Field.
"I don't plan on having a lot of support, that's for sure," Conte said. "But I'm going to go out there and play football. That's what my job is and that's what I'm going to do."
Trestman isn't worried about how Conte deals with the criticism.
"It's not a concern because I hadn't thought about it," said the Bears coach. "I haven't even addressed that. Chris has played a lot of football. He's a professional. He made a commitment to come back and be at his best. He's done everything he can to do that, and he's going to get an opportunity to play this week.
"We'll continue to assess his play just like we'll assess everybody's play on the team. But like I said, I don't have a concern because the thought never entered my mind quite frankly. He's up. He's going to play. He's going to get time on the field. He's going to have an opportunity to show what he can do and we'll assess and evaluate him just like we're going to do [with] everybody on the team the first month of the season and during these games."