Chris Conte hasn't performed as well as many expected this season, but the Bears safety delivered three impact plays in Sunday's 21-19 loss to the Detroit Lions.
With the Bears trailing 14-10 early in the fourth quarter, Conte intercepted Matthew Stafford's overthrown pass intended for receiver Calvin Johnson and returned it 35 yards to the Detroit 9.
"It was just cover-two, reading the quarterback," Conte said. "He put the ball up and just went up and got it. But I need to score on that because I think we got a field goal out of that offensive drive. So I need to help out the offense and score there."
[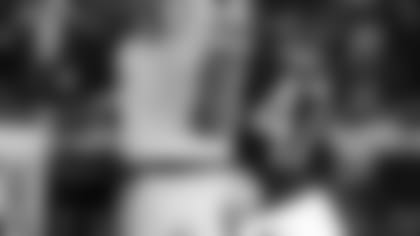 ](/multimedia/photo-gallery/Bears-vs-Lions---Week-10/18a4a136-21a3-4fd0-a5dd-dbf527422d8a)
Chris Conte breaks up a pass intended for Lions receiver Calvin Johnson. Click to view photos from the game.
The Bears settled for Robbie Gould's 32-yard field goal, cutting the deficit to 14-13, after Matt Forte's 9-yard touchdown run was nullified by a holding penalty on Matt Slauson and Alshon Jeffery's 14-yard TD catch was reversed after a replay review.
On the Lions' next possession, Conte broke up Stafford's pass to Johnson in the end zone on third-and-20 from the Chicago 27, and David Akers followed by missing a 45-yard field goal attempt.
Earlier in the game, Conte had batted down a Stafford pass at the line of scrimmage on fourth-and-one, enabling the Bears to take over at their own 31.
So close: After Brandon Marshall's 11-yard TD reception from Josh McCown closed the gap to 21-19 with :40 remaining, the Bears failed to score on back-to-back two-point conversions.
McCown rolled to his right and threw an incomplete pass while under heavy pressure, but Lions defensive end Willie Young was penalized for roughing the passer. With the ball moved to the 1, Forte took an inside handoff and was dropped in the backfield by tackle Nick Fairley.
"These plays were decided long in advance," said coach Marc Trestman. "We got what we wanted on the first one. We got man-to-man coverage. Matt was covered by a linebacker and Alshon, I couldn't see the number back there, but I'm anticipating it was a safety. We didn't get that done.
"The second play was also part of our two-point package. We had a run-pass option. The defense gave us the run, we just didn't block it. We just didn't execute. We didn't execute today, offensively, like we needed to, particularly in the running game. We just didn't get it done."
Going for it: With the score tied 7-7 early in the second quarter, the Bears kept their offense on the field on fourth-and-one from the Detroit 27 instead of having Gould try a 45-yard field goal.
Michael Bush was stopped for no gain and the Bears turned the ball over on downs.
"It's early," Trestman said. "We're coming off a game where the Lions put up 500 yards and they went down the field on the first series and scored. So that possession became critically important.
"The field position was such that, if we don't get it, they have to go the long field and we've eliminated the kickoff. It has nothing to do with lack of faith in the defense or anything like that."
Dynamic duo: Marshall caught seven passes for 139 yards, while Jeffery had nine receptions for 114 yards. It was the first time two Bears receivers topped 100 yards in the same game since Nov. 24, 2002 when Marty Booker and Dez White accomplished the feat.
Marshall scored both Bears touchdowns on passes of 32 yards from Cutler and 11 yards from McCown. Marshall has TD receptions in all five Bears home games this season.
Young guns: The Bears started four rookies Sunday (right guard Kyle Long, right tackle Jordan Mills, linebacker Jon Bostic and defensive end David Bass) for the first time since the 2003 season finale against the Chiefs in Kansas City (quarterback Rex Grossman, cornerback Charles Tillman, linebacker Lance Briggs and receiver Bobby Wade).
Roster notes: Briggs (shoulder), long-snapper Patrick Mannelly (calf), defensive end Shea McClellin (hamstring) and defensive tackle Jeremiah Ratliff (groin) sat out with injuries. Other Bears inactives were quarterback Jordan Palmer, tackle/guard James Brown and tackle Jonathan Scott.