The Bears secondary got more crowded Sunday as veteran safeties Chris Conte and Craig Steltz both practiced for the first time this year after recovering from offseason surgeries.
Conte, who underwent a procedure on his right shoulder, participated in position and team drills, while Steltz, who had groin surgery, was limited to individual work.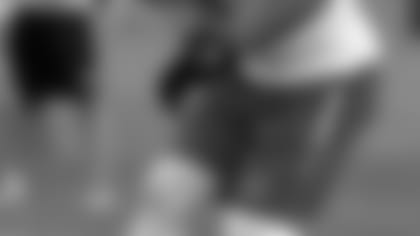 Safety Chris Conte practiced for the first time this year Sunday in Bourbonnais.
"It's great to have them on the field, and it's part of the competition here," said coach Marc Trestman. "They've worked very hard to get back. It's been a long road for them. We're starting to work them in. Obviously they've got a ways to go, but they're on the field now and that's a start."
Conte started all 16 games for the first time in his career last season, registering 95 tackles, three interceptions, seven pass breakups and one forced fumble. He had surgery in late March and missed the entire offseason program and the first two-plus weeks of training camp.
"My shoulder wasn't right, so I had to fix it," Conte said. "I did everything I could to not have surgery, but at the end of the day that's what I needed to have. That's what the doctors said I needed to have. The best option for me was to have surgery, so I went ahead and did that and did everything I could to make myself be 100 percent and be the best football player I can be."
Selected by the Bears in the third round of the 2011 draft, Conte was considered a promising young player over his first two NFL seasons. But the 6-2, 203-pounder was widely criticized last year, something he referred to Sunday when asked about seeking redemption in 2014.
"I've got a list of a lot of things I want to do and a lot of people I want to prove wrong," Conte said. "There are a lot of goals I have, a lot of things I'm looking forward to, but I'm taking it one day at a time."
Conte told reporters that during the offseason he did "a lot of soul-searching" and spent "a lot of time focusing on myself physically and mentally." He said he "learned to keep people close to me that I care about and always know that the people that support me are the only people that really matter."
"It was a good time for me to get better in a lot of different areas," Conte said. "Hopefully I'm a better person and a better football player."
Conte worked primarily with the No. 2 defense Sunday. Barring any setbacks, he is expected to compete for a starting job at a crowded safety position that includes veterans Ryan Mundy, Adrian Wilson and Danny McCray and rookie Brock Vereen, among others.
"I've seen [Conte] make plays at the line of scrimmage and I've seen him make plays at the perimeter," said coach Marc Trestman. "We've seen him do very good things. [But] he's got to do it consistently. He's got to know where to get lined up and the things we're doing defensively and make calls and be in the right place. But certainly the athleticism is there to compete with anybody in the back end."
Asked about Conte telling reporters he had done soul-searching, Trestman said: "Around me, Chris is pretty even-keeled. He's pretty quiet. We have conversations, but they go just the normal course of conversation. What he has to say is up to him. I know he's had a lot of time to think about how he wants to come back. He's back because we want him back. We've seen him play at a high level and we're hoping he can get back to that again."
Steltz, meanwhile, is also excited to return. A valuable reserve and special teams standout, the seven-year veteran is focused solely on improving each day.
"You've just got to take it a day at a time," Steltz said. "You stack one day at a time and when you look back you'll be where you need to be. You can't look ahead. We always talk about 'win the day' and that's kind of what I've been doing the last couple days. Control the things you can control.
"It's frustrating when you're not out there. You're not able to compete, you're not able to be part of the team, and that's what everybody loves so much about this game is the team atmosphere and being with the guys."