Former Bears wide receiver Curtis Conway was recently featured on NFL Network's "NFL Total Access" ranking the top five players in franchise history.
Conway's list consists solely of Hall of Famers. At No. 5 he has his former teammate, Richard Dent, the Bears' all-time leader with 124.5 sacks. Dent played 12 of his 15 NFL seasons with the Bears after arriving as an eighth-round draft pick in 1983.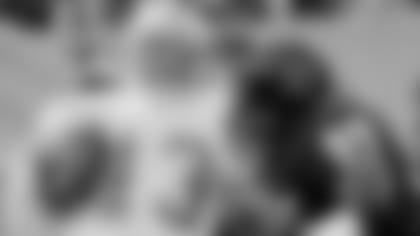 Hall of Famer Richard Dent averaged more than 10 sacks per season in 12 years with the Bears.
Dent was named Super Bowl XX MVP, was an integral part of a championship defense that is considered one of the best in NFL history and was voted to four Pro Bowls.
"You talk about intimidating," said Conway, who played for the Bears from 1993-99. "We talk about the edge rushers of today. He was one of the best back in his day."
Conway ranks former middle linebacker Mike Singletary at No. 4. Chosen in the second round of the 1981 draft, Singletary was voted to a Bears-record 10 Pro Bowls.  He was named to the NFL Team of the Decade for the 1980s, was chosen the NFL defensive player of the year in 1985 and 1988, and missed just two games in 12 seasons.
"When you talk about arguably the best defense assembled in NFL history, he was in the middle," Conway said. "He was the heart and soul of that defense."
Conway lists former running back Gale Sayers at No. 3. "The Kansas Comet" set 23 Bears records and seven league marks during a spectacular but injury-shortened career. Named the NFL's Rookie of the Year after scoring 22 touchdowns in 1965, Sayers was eventually selected to five Pro Bowls in seven seasons.
In 1977 at the age of 34, Sayers became the youngest man ever inducted into the Hall of Fame. His effective playing time is also the shortest of any Hall of Famer.
Conway ranks former middle linebacker Dick Butkus at No. 2. Arguably the most ferocious defensive player in NFL history, Butkus was an intimidating and relentless force who possessed an unrivaled mixture of talent, aggression and hostility.
After being selected by the Bears with the third overall pick in the draft, Butkus was voted to the Pro Bowl in each of his first eight NFL seasons. He was also selected as an All-Pro in seven of his nine seasons in Chicago.
Conway called Butkus "the blueprint of Chicago Bears football" and an "intimidating, blue collar guy that's going to knock your head off."
Conway lists former running back Walter Payton as the top player in Bears history. Payton joined the Bears as the fourth overall pick in the 1975 draft and proceeded to set 16 NFL records and 28 team marks. He retired in 1987 as the league's all-time leading rusher with 16,726 yards, a record that wasn't eclipsed until 2002 by Emmitt Smith.
Payton also held NFL marks that have since been broken for the most yards in a game (275) and the most 100-yard games in his career (77). He was voted to nine Pro Bowls, had his No. 34 jersey retired by the Bears and was enshrined in the Hall of Fame in 1993.