Defensive end Corey Wootton never dreamed he'd play an entire game at defensive tackle, but that was the plan Sunday against the Saints even before the Bears suffered another key injury.
"I would have thought maybe occasionally on third down from time-to-time, but I never thought full-time three-technique," Wootton said Tuesday at Halas Hall. "But injuries happen and I just had to step up where they needed me."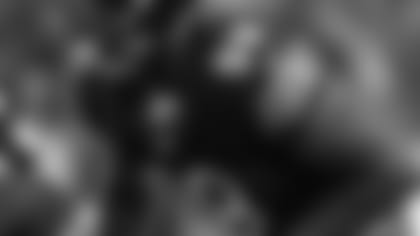 Corey Wootton has less room to maneuver at defensive tackle than he had at end.
The Bears started Wootton inside because they were down two defensive tackles; Henry Melton is out for the season with a torn ACL and Stephen Paea sat out against the Saints with a toe injury. When the position was further depleted when Nate Collins tore his ACL in the third quarter, it meant that Wootton likely would remain a tackle for the foreseeable future.
The Northwestern product had lined up inside in some passing situations, but playing the position on every down is requiring him to alter his game.
"It's just a different ballgame inside," Wootton said. "You get a lot more double teams. Guys are shorter and stouter, real good run blockers. Contact happens faster than outside, so it's definitely an adjustment. It's pad level and getting off the ball. You can't take a long step like I did at end."
With long arms and a lanky 6-6, 270-pound frame, Wootton appears ideally suited to play outside. But defensive coordinator Mel Tucker was pleased with how he performed inside Sunday.
"I thought he did well," Tucker said. "I liked him in there. He was able to get his pads down, use his hands and get off the ball. He had good anchor and played with good energy.
"He's a smart player. He's got good football awareness and instincts. He can bend. He's strong. He's got length. That's a guy that can do both. He can pick up the scheme at both positions. He can play on the left. He can play on the right; inside, outside.
"Those are the traits you're looking for for a guy that can multiple positions."
As he prepares for Thursday night's home game against the Giants, Wootton has to remind himself to continue to think like a tackle.
"The biggest thing is that you've got to take a shorter six-inch step and really get your feet in the ground because if you take too long of a step they're really going to be able to get you off balance," he said. "It's definitely an adjustment in there, but I got the hang of it during the game.
"I try to use my arm length to try to get the blockers off me and just be able to try to get off the ball. That's the biggest thing, especially in our scheme."
The Bears hope that Paea will be able to return against the Giants, but they're not going to rush him back into the lineup if he's not ready to play, especially with 10 days before their next game.
Either way, Landon Cohen likely will get some reps at tackle for the third straight game. Cohen made his Bears debut Sept. 29 in Detroit, just two days after he had signed with the team.
Zach Minter, an undrafted rookie from Montana State who made the opening-day roster, could make his NFL debut after being inactive in the first four games.
"We'll see how the next couple of days play out, but obviously he's here," Tucker said. "[Minter] knows what's expected out of him when called upon.
"We're all in the next-man-up mode here, regardless of position. So preparation in the meetings and on the practice field is huge for the starters and the reserves as well because you never know when your number is going to be called and what we're going to need you to do."
A full-time defensive end up until about a week ago, Wootton is living proof of that.
"Injuries happen and we have to adjust to it," he said. "They've asked me to play a different position. I have to do everything I can to give my all and just try to get better every week."