Bears special teams standout Blake Costanzo will feel right at home Monday night in San Francisco when he steps on the field to face his former team.
In his lone season with the 49ers last year, Costanzo became a fan favorite due to his blue collar mentality and production on the punt and kickoff units.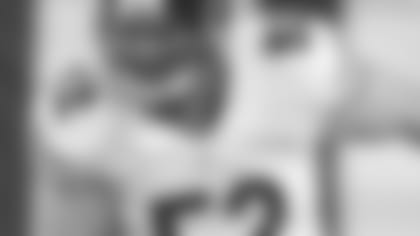 Blake Costanzo leads the Bears with 10 special teams tackles this season.
The New Jersey native ranked second on the team with 17 special teams tackles and led San Francisco with four stops in the playoffs. In a post-season win over the Saints, Costanzo forced a fumble on a punt return and recovered a fumble on a kickoff return.

"I'm excited to go back there and see some of the guys and some of the coaches," said Costanzo, who signed a two-year contract with the Bears on the first day of free agency in March.

"They're your friends until you step between the lines and then they're just football players. But I'm excited to go back there and see a lot of the guys I played with. That's my favorite part of playing football; the guys in the locker room and forming relationships, so it's going to be fun."

Prior to joining the 49ers, Costanzo played for the Bills (2007-08) and Browns (2009-10). He has appeared in 70 games in six NFL seasons, recording 81 special teams tackles. Costanzo leads the Bears with 10 special teams tackles and ranks third in Pro Bowl fan balloting.

On the mend: It appears that rookie receiver Alshon Jeffery will play Monday night after missing the last four games with a hand injury he sustained Oct. 7 in Jacksonville.

The second-round draft pick practiced without restrictions for the first time Saturday and is listed on the injury report as probable, meaning there's a 75 percent chance he'll play.

"Alshon was playing great ball when he went down with the injury," said coach Lovie Smith. "He's another big target, another guy for Jason [Campbell] to throw to if it comes to that, and another guy with some size to block if we lean more towards the run."

Defensive tackle Henry Melton (knee) is also listed as probable after practicing without limitations Saturday. Three Bears players have been ruled out of Monday night's game: quarterback Jay Cutler (concussion), defensive end Shea McClellin (concussion) and defensive tackle Matt Toeaina (calf).

Guessing game: Niners quarterback Alex Smith was limited in practice Saturday due to the concussion he suffered in last Sunday's 24-24 tie with the Rams and is questionable for Monday night's game, meaning there's a 50 percent chance he'll play.

If Smith is unable to start, he'll be replaced by backup Colin Kaepernick.

"I'm sure they will say there is a big difference, but for us we can't look at it like that," said Bears coach Lovie Smith. "They're both good quarterbacks, similar athletes.

"Normally when you set up your roster, your backup is a similar guy to the starter. So for us, either one that plays doesn't really matter an awful lot for us. I don't think their game plan will change an awful lot. They're still going to be a running football team and the pass will be secondary."

History lesson: The Bears are 0-7 in San Francisco since 1985, losing those games by an average margin of 34-6. But that's of no consequence to their head coach.

"Most of these guys don't know anything about 1985 being the last time we've beaten them out there," Smith said. "We're taking our best football team in a long time out there to play them, and that's what we're excited about."