Victor Cruz has yet to break out his signature Salsa dance. But less than a week into training camp, the veteran receiver already feels at home with the Bears.
"It's going well; so far so good," Cruz said. "A lot of new terminology, a lot of new nuances, a lot of different route combinations. But at the end of the day it's football, so I just have to make sure I learn it, make sure I retain it and be able to fly."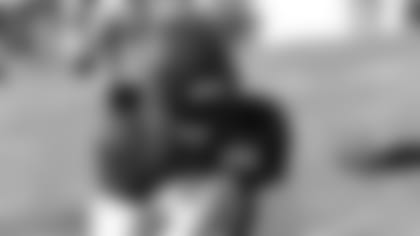 Bears receiver Victor Cruz runs with the ball during a training camp drill.


Cruz signed with the Bears late in the offseason—May 30 to be exact—giving him less time than most of the team's other free-agent acquisitions to digest his playbook. But the former Giants star likes the offense and is confident that he can thrive in it.
"I think I fit in very well," Cruz said. "A lot of it, especially from a slot perspective, it definitely suits my abilities. I think if I just continue to prove that I can make those plays and run those routes the right way and get myself open, I'll be out there on the field playing on Sundays."
Cruz entered the NFL with the Giants in 2010 as an undrafted free agent from Massachusetts. He emerged as a star in his second season, helping New York win the Super Bowl by catching 82 passes for 1,536 yards and nine touchdowns. He followed with 86 receptions for 1,092 yards and 10 TDs in 2012 and 73 catches for 998 yards and four TDs in 2013.
But Cruz's career was derailed six games into the 2014 season when he tore the patellar tendon in his right knee against the Eagles. He seemed to be on the road to recovery nearly a year later but suffered a calf injury that sidelined him for the entire 2015 campaign.
Cruz returned last year, appearing in 15 games with 12 starts and catching 39 passes for 586 yards and one touchdown. In the opener—his first regular-season game in 700 days—he caught a 3-yard TD pass from Eli Manning that lifted the Giants to a 20-19 win over the Cowboys.
"He's got skins on the wall," said coach John Fox. "The guy has been there, been in good spots. The guy came into the league not in really high regard. He earned his way. Like we try to stress here, everybody starts off as a nobody, but he's a great example of that.
"He brings a lot of that chip-on-his-shoulder experience, big-spot experience, how-to-get-those-spots experience. He's going to be a good addition."
Cruz's transformation from an undrafted rookie into a star receiver on a Super Bowl-winning team makes him someone his young teammates can look to as a role model and mentor.
"He's been in the league for a long time," said receiver Cameron Meredith. "He had some things to help me with on the field and off the field, whether it's something he saw on a route or something he can teach me off the field to help me get prepared or something to help me mentally."
Cruz understands that he's viewed as a leader because of his experience and vows to embrace the role.
"I think it comes natural," Cruz said. "If you have to sit a guy down and tell him to be a leader it kind of adds a different energy to it. I think it just kind of comes with the territory, being my eighth year and being through the ups and downs that I've been through.
"It just kind of falls in my lap. I don't know what day I woke up and became a veteran, but I guess it's here. I guess I've got to embrace and accept it. But I accept the challenge and it could be a good one."