Training camp doesn't begin for three months, but current and former Bears players are heading to football fields locally and nationally to share their expertise with kids.
Linebacker Lance Briggs and defensive end Corey Wootton are hosting football camps, while several former players are slated to appear at the Bears' official youth camps throughout the summer.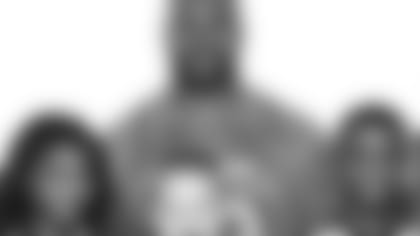 Lance Briggs is hosting a free youth football camp Saturday at Hales Franciscan High School.
Briggs will teach techniques and fundamentals at a free camp from 10 a.m.-2 p.m. Saturday at Hales Franciscan High School (4930 South Cottage Grove Lane) in Chicago. Students in grades 7-12 are invited to attend, but must register in advance at
www.DTLR.com
.
"I don't think there's anything more important than giving back to kids," Briggs said, "and the best way for someone like me to give back is to teach something I know a lot about. I would like to encourage kids to come out to the camp and learn fundamentals, compete and have fun."
Briggs, a seven-time Pro Bowler, will also return home to host his fifth annual Nor-Cal All-Star Football Camp on Saturday, June 8 at American River College in Sacramento, Calif. The camp, which runs from 9 a.m., to 3 p.m., is for girls and boys ages 8-17 and costs $25.
Wootton will host a football camp for kids entering grades 2-9 at Memorial Field in Rutherford, New Jersey, July 8-11. The camp, which costs $225, will consist of team and position drills; speed and agility drills; live touch games; a punt, pass and kick competition; guest speakers and more.
The official Bears' youth football camps are held throughout the Chicago area for kids between the ages of 6 and 14. These week-long camps feature safe, non-contact football instruction and athletic development, as well as instruction about good nutrition, proper hydration, and rest and recovery. Camps are led by professional educators with high school, college or professional coaching experience.
Former Bears players provide supporting instruction at all camp locations. They include Darnell Autry, Fabien Bownes, Macey Brooks, Ron Cox, Wendell Davis, Allan Ellis, Mark Green, Kris Haines, Emery Moorehead, Anthony Morgan, Jim Morrissey, Adrian Peterson, Mickey Pruitt, Jim Schwantz, Calvin Thomas, James Thornton, Keith Van Horner, Donnell Woolford and Eric Wright.
Camps will be held in Chicago June 10-14; Lake Forest June 17-21; Chicago June 25-28; Elmhurst, Glenview and Naperville June 24-28; Arlington Heights, Frankfort, Deerfield and Wilmette July 8-12; Barrington, Chicago, Evanston and Libertyville July 15-19; and Chicago, Geneva, Glen Ellyn and Northfield July 22-26.