The Bears have vowed to spread the ball around more this year than they did last season when Brandon Marshall set a franchise record with 118 receptions—74 more than his closest teammate.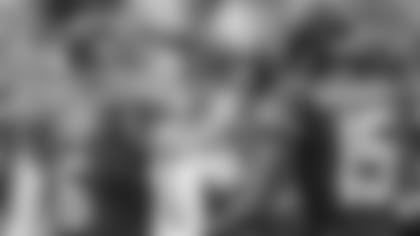 Jay Cutler and Brandon Marshall talk on the sidelines before the start of the Bears' second preseason game.
That hasn't happen so far in the preseason—all five of Jay Cutler's passes last Thursday night against the Chargers went to Marshall—but the Bears quarterback isn't concerned at this stage.
"You guys are hitting the panic button after two preseason games and 30 plays," Cutler said to reporters. "Yeah, we're going to spread it around. We can't just throw to Brandon and give the ball to Matt [Forte]. We've got to figure out ways to get other guys involved. We had plays [called]; some of them worked, some of them got checked out of. It's just the way it goes."
Tight end Martellus Bennett, a key free-agent addition who is expected to play a significant role on offense, has yet to be thrown a pass in two preseason games.
"It's the way the cookie crumbles sometimes," Bennett said. "We haven't played a full game yet. There will be some [games] where Brandon might catch eight balls in the first half, and then the second half they might double him. I might catch eight or Alshon [Jeffery] might catch eight."
Asked if he has to remind Cutler that he's open, Bennett said: "Nah, he sees me. I'm 6-7; a big black guy running down the field. He sees me. I wear white gloves, so he can see the white gloves when I wave them like Mickey Mouse. I'm clapping every time I'm open."
Ready to shine: Although Jeffery has only one catch for 13 yards in the preseason, the second-year pro has had an impressive training camp and could emerge as a key contributor.
"Alshon I think has probably had the best camp out of everybody on offense," Cutler said. "He's done a great job this offseason of getting better, getting physically stronger and gaining my trust. I love throwing it to him."
The Bears moved up five spots in last year's draft to select Jeffery in the second round out of South Carolina. The 6-3, 216-pounder showed promise while battling through injuries as a rookie, catching 24 passes for 367 yards and three touchdowns while appearing in 10 games with six starts.
A year later, Jeffery appears primed to build on that success as he develops a closer bond with Cutler.
"I just think that I'm coming in, trying to get better, just learning from what I did last year and getting on the same page with him," Jeffery said.
Going inside: The Bears moved indoors Wednesday, holding their final practice of the week in the Walter Payton Center in advance of Friday night's preseason game in Oakland.
"I wanted guys to get a chance to see our new surface here," said coach Marc Trestman. "It's going to be a tool we're going to be able to use during the season at times when we need to get inside.
"They've practiced very hard in the heat the last two days. It's humid out there. I thought it would be a good opportunity on a short field on a shorter practice day to just allow them to come inside and see what the organization has done for us to help our football team to get better on the days we need to be inside."
On the mend: The Bears are hoping that tackle Jonathan Scott is able to get back on the practice field soon after missing most of training camp with a knee injury.
"He's getting better every day," Trestman said. "We feel good enough that we'll see him get a little more work over the next 10 days as we move forward. The best I've heard from Jonathan is that he's back up, his knee is cleaned out and we're encouraged that he'll be working soon."