Limping into their bye week with three losses in their last four games, the Bears will look to rebound without two of their best players for an extended period of time.
Quarterback Jay Cutler is expected to miss at least four weeks with a torn groin muscle, while linebacker Lance Briggs likely will be out around six weeks with a shoulder injury that includes a small fracture. Both were hurt in Sunday's 45-41 loss to the Redskins at FedEx Field.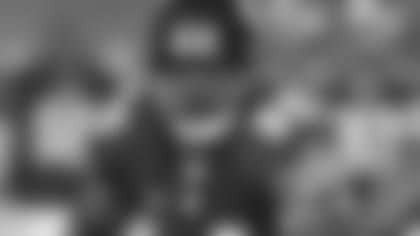 Lance Briggs has missed only four games due to injury in 11 seasons with the Bears.
"They're significant [injuries], but the positive thing is they're not out for the season," coach Marc Trestman said Monday. "They're not done. They're going to be back and this team has an obligation with a next-man-up philosophy of coming together."
Cutler got hurt while being sacked by defensive lineman Chris Baker with 9:54 left in the first half. The Bears quarterback remained down for several minutes before slowly limping to the sideline. He exited after completing 3 of 8 passes for 28 yards with one interception and an 8.3 passer rating.
"He just got grabbed and turned over and he said he felt something pop," Trestman said. "I'm encouraged by the prognosis that he'll be back, and this bye couldn't come at a better time."
Cutler had been playing well this season. He entered the Redskins game with a 95.2 passer rating that was well above his 84.2 career rating, and he had passed for more yards (1,630) through six games of a season than any quarterback in Bears history.
"He's had a good year," said general manager Phil Emery. "I've said it in the past: I'm a Jay Cutler fan. I continue to be. He's improved as a player. His overall demeanor and his calmness has improved. He's certainly gotten the ball out faster. He's hitting more targets. He's been a key part in leading us to victory."
Following the bye week, Cutler is expected to miss games against the Packers, Lions and Ravens, at the very least. He will be replaced by Josh McCown, who excelled in relief Sunday against the Redskins, completing 14 of 20 passes for 204 yards with one TD and a 119.6 passer rating.
"That's part of our optimism here," Trestman said. "We know we can come back next week. We know that we can have real good practices. I think our football team feels that it can really around Josh, and he's going to put us in position to win games. I think that was clear yesterday, and that gives us a lot to build on going into next week."
McCown led the offense to three touchdowns and one field goal in the second half, but the Bears defense allowed the Redskins to score TDs on four of their final six possessions, including the game-winner on Roy Helu Jr.'s 3-yard run with :45 remaining.
The Bears intend to sign veteran free agent Jordan Palmer to back up McCown. Palmer orginally joined the team Aug. 17 after third-string quarterback Matt Blanchard broke his hand and excelled in the first half of the preseason finale against the Browns, completing 11 of 17 passes for 111 yards with one touchdown and a 102.8 passer rating.
The Bears on Monday released tight end Steve Maneri to make room on the roster for Palmer. Maneri had been inactive in each of the last three games.  
Briggs had been playing at a very high level before his injury. The seven-time Pro Bowler entered Sunday's game against the Redskins leading the defense with 59 tackles and eight tackles-for-loss and tied for the lead with two sacks and two fumble recoveries.  
"We're losing a great leader in Lance," Trestman said. "We're going to have to work very, very hard to recover, but that doesn't say we can't. It's been done before. We've got time to work through it and there's no reason why as a football team that we can't be confident we can rally around that position and find a way to win games."
It's unclear whether Blake Costanzo or rookie Khaseem Greene will replace Briggs at weakside linebacker when the Bears return to action Nov. 4 in Green Bay. It's also not yet known whether rookie Jon Bostic or veteran James Anderson will assume Briggs' play-calling duties.
"In terms of who will be out on the field against the Green Bay Packers, it'll be whoever practices the best and presents the best option for the Chicago Bears to win football games," Emery said.