Sidelined since suffering a sprained right thumb in a Week 2 loss to the Eagles, Bears quarterback Jay Cutler has been cleared to play by team doctors.
Coach John Fox told reporters Monday that Cutler received the green light over the weekend and is expected to practice Tuesday when the Bears begin preparing for next Monday night's game against the Vikings.
"Jay's our starter," Fox said. "He was injured, not permitted to play medically. And now that he's healed, he's back to being our starter."
Fox revealed Monday that Cutler was expected to miss 4-6 weeks and pointed out that next Monday night's game will be exactly six weeks since the quarterback was injured against the Eagles.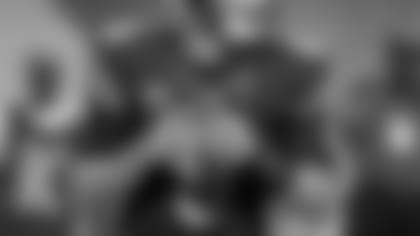 Quarterback Jay Cutler has been cleared to play by team doctors.


Fox said that he doesn't like to provide timelines for players to return from injury because they're frequently inaccurate. Last season some media outlets reported that Cutler would miss up to a month with a hamstring injury, but he returned after sitting out just one game.
"That's part of the reason why I don't like putting timeframes on things," Fox said. "Sometimes medical people come up with their timeline evaluations and he surpassed that by quite a bit in getting back. He missed one game in Seattle where Jimmy Clausen started and played and made it back quickly from a hamstring strain. But that injury's a little bit different than your throwing hand ... as far as the restrictions it has in playing your position."
In two starts this season, Cutler has completed 28 of 46 passes for 373 yards with one touchdown, two interceptions and a 75.7 passer rating. His replacement, Brian Hoyer, started the last five games but is out indefinitely after breaking his arm in last Thursday's loss to the Packers.
Fox believes that Cutler is eager to return to action and was impressed with how he worked with Hoyer and offensive coordinator Dowell Loggains while sidelined.
"I think he's been [champing] at the bit for a while," Fox said. "Anytime you can't play as a competitor, obviously that's hard, and I think he handled it great. He was very involved in the game-planning both with Dowell and Brian. Through this process he's been very helpful and been a great teammate."
Fox acknowledged that it probably isn't easy on Cutler to hear national media outlets speculate that the Bears will part ways with him next season.
"All that for everybody is tough," Fox said. "I think everybody realizes what they signed up for. Obviously as a coach and a staff you're always trying to help your players through stuff like that. But one thing I've found in Jay in the time I've been here is that he's very tough-minded and resilient.
"He went through a stretch where it's tough not being able to play, and watching somebody else play your position is never easy for any competitor at any position. So I think he's handled it great and I think he'll handle it great moving forward."
Fox also revealed that Hoyer underwent successful surgery on Sunday and likely will be placed on injured reserve. With Cutler and reserve Matt Barkley the Bears' only two healthy quarterbacks, the team will consider signing another player at the position.
"We'll look at it," Fox said. "It could be important to have a third guy, especially because we've been through three already. We'll entertain those thoughts moving forward."