Bears quarterback Jay Cutler has been cleared to practice on a limited basis, but he still must be cleared by an independent neurologist to play Sunday against the Minnesota Vikings.
Cutler sat out Monday night's lopsided loss to the 49ers in San Francisco after suffering a concussion eight days earlier in a defeat to the Houston Texans at Soldier Field.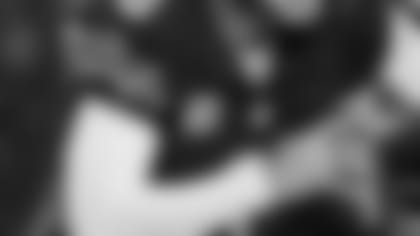 Jay Cutler looks for a receiver during the Bears' loss to the Texans Nov. 11.
Speaking to the media Wednesday during his weekly press conference at Halas Hall, Cutler said he felt good but wasn't sure whether he would be able to face the Vikings.

"We're going through the process; still a few things to go through this week," said Cutler, who told reporters that he isn't experiencing any concussion symptoms. "We'll see how it goes."

The last time Cutler suffered a concussion—when he was sacked nine times in the first half of a 2010 loss to the New York Giants—he returned to action after missing one game.

Although he has had multiple concussions, Cutler isn't overly concerned about long-term problems.

"You trust the doctors and our training staff that we're going to make the right decision for my health, not only in the near future but in my lifetime going forward," Cutler said.

"I think everyone's perspective has changed [concerning concussions] because there is just more awareness, there is more information. [But] it's not going to change the way I play football. It's not going to change my desire to return to the field by any means."

Because they played Monday night, the Bears did not practice Wednesday. They'll work out for the first time this week on Thursday. Jason Campbell, who made his first start of the season in San Francisco, thinks that he and Cutler will share time in practice.

"I expect both of us to get some reps," Campbell said. "He may get the majority. We'll see how the week progresses. I do have a couple reps under my belt, got a chance to play a full four-quarter game. It wasn't the way I planned or we planned, but we will put it behind us and move forward."

Asked whether he anticipates Cutler returning to start against the Vikings, offensive coordinator Mike Tice said: "God, I hope so. I do, I really do. Not anything against Jason. Jason did a remarkable job based on the opportunities he was afforded. We've got to get our guy back."

Two days after the game, Campbell was still feeling the effects of getting pounded by a 49ers defense that was credited with six sacks and 11 quarterback hits.

"It's always the second day that you're the sorest," Campbell said. "There's going to be some cold-tubbing, some hot tub, some treatment to get back out there and we'll see what happens. If I have to play, I'll definitely be ready. You get knocked down once, you get back up. That's my motto."

While Campbell took a couple of coverage sacks early in the game, the veteran quarterback had no chance on some plays. On three occasions, he got sacked on three-step drops.

Asked if he received any advice from Cutler after the Bears returned to Chicago, Campbell said: "He [said]: 'It was a tough situation you were in. Don't beat yourself up too much about it. Just move forward. People who understand football understand what was going on.'

"It was a tough loss, but not the end of the world. We could be sitting here with the opposite record and everything's in the dumpster. We still have everything ahead of us."