Jay Cutler is thrilled with the Bears' decision to hire Marc Trestman as their new head coach.
The 57-year-old Minnesota native joins the Bears after spending the last five seasons in the Canadian Football League as head coach of the Montreal Alouettes, compiling a 59-31 record and winning back-to-back Grey Cup championships in 2009 and 2010.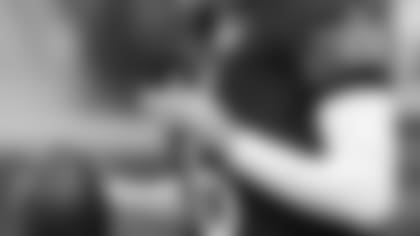 Jay Cutler passed for 3,033 yards with 19 touchdowns, 14 interceptions and an 81.3 passer rating for the Bears this season.
"It's a great hire," Cutler told ChicagoBears.com Wednesday. "I couldn't be more excited. I've talked to guys around the league and did my own research on him. He's an offensive mind, a great person and a guy that's going to come in and hopefully lead us to many victories in the future."

Before working for the Alouettes, Trestman spent 17 seasons as an NFL offensive coordinator and position coach. During that time, he helped five different teams earn playoff berths while molding quarterbacks such as Steve Young, Rich Gannon and Jake Plummer into better players.

Young led the NFL with a 97.2 passer rating in 1996, while Gannon was named league MVP in 2002 after passing for 4,689 yards and 26 touchdowns and posting a career-high 97.3 passer rating. In recent days, Young and Gannon both had been strong advocates of the Bears hiring Trestman.

"He's been successful wherever he's been," Cutler said. "He's from the West Coast coaching tree, which I'm familiar with. It's what I came into the league with with [Mike] Shanahan [with the Denver Broncos in 2006], so I'm looking forward to it.

"He understands quarterbacks. He understands their thought process and the minds of quarterbacks and what we have to go through. It's going to be a quarterback-friendly system and I can't wait to get started with him."

Cutler worked with Trestman briefly in 2006 while preparing to enter the NFL Draft. The quarterback was ultimately selected 11th overall by the Broncos.

"I was young and impressionable," Cutler said. "I flew to North Carolina State and worked with him for two days. You could just tell how knowledgeable he was about the quarterback position and offense in general. It was definitely a learning experience. It's funny how things work out. Almost seven years later I'm back working with him again."

One thing that isn't funny is the constant change Cutler has endured throughout his career. This year he will work with his fourth different offensive coordinator in five seasons with the Bears.

"It's hard," Cutler said. "You start back at zero every year with the entire offense, so it's definitely challenging. I think if you look across the league at elite and very good quarterbacks, they've all been in systems for numerous years.

"That's what our goal is here; for coach Trestman to come in and install his system and us win games and keep him around for a long time to be able to grow year-in and year-out in this system and get everyone better."