Bears coach John Fox said Wednesday that Jay Cutler is "day-to-day" with a shoulder injury he sustained in last weekend's loss to the Giants and still could play Sunday against the Titans.
"It's not season-ending, contrary to the reports you hear," Fox said. "In my experience with Jay, he's a tough son of a gun, so he doesn't go typical of the lengths people put into it as far as weeks [he'll miss] and what not. So right now he is day-to-day."
Cutler did not practice Wednesday. But when asked whether it was "out of the question" that the quarterback could play versus Tennessee, Fox said: "Not in my mind with being day-to-day."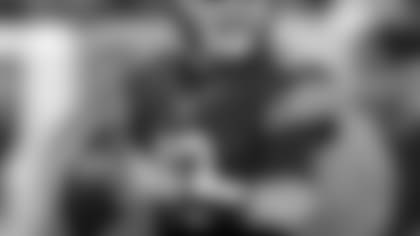 Bears quarterback Matt Barkley connected on 6 of 15 passes for 81 yards in Week 7.


Cutler started the first two games of the season, missed the next five contests with a sprained thumb, and then returned to play the last three weeks. This season he has completed 59.1 percent of his passes for 1,059 yards with four touchdowns, five interceptions and a 78.1 passer rating.
If Cutler is sidelined, the next quarterback up on the depth chart is Matt Barkley, a fourth-year pro who has appeared in one game since signing with the Bears in September. Relieving an injured Brian Hoyer in a Week 7 loss in Green Bay, Barkley connected on 6 of 15 passes for 81 yards with two interceptions and an 18.3 rating.
"Matt's been in big spots," said coach John Fox. "He won't blink. He didn't blink with not being very experienced with us even in Lambeau, so it's not going to be too big for him. He's been in big games. He understands what it is to be a good teammate and he'll do everything he can to be as prepared as he can if he in fact becomes the starting quarterback."
Barkley was selected by the Eagles in the fourth round of the 2013 draft out of USC. He appeared in four games over two seasons with Philadelphia—all as a backup—and completed 30 of 50 passes for 300 yards with no TDs, four interceptions and a 43.7 passer rating.
Barkley was traded from the Eagles to the Cardinals last September. He did not appear in a regular-season game but remained with Arizona until he was released this past August.
Barkley's next start—which could come as early as Sunday—will be his first in the NFL.
"I'm definitely excited," Barkley said Wednesday. "It's still up in the air about what's going to be happening. But I'm preparing like I'm starting. Getting the reps is big in any quarterback's development, so I'm taking advantage of those; just getting timing down with the receivers, getting in and out of the huddle, just little things like that. But whatever happens Sunday I'll be ready."
The Bears have been decimated by injuries at multiple positions this season. At quarterback, Cutler has been limited to five games and could miss more, Hoyer is out for the season with a broken arm after making five starts and Connor Shaw broke his leg in the preseason finale.
Barkley feels that he's much better equipped to play now than he was five weeks ago in Green Bay.
"I'm I'd like to say light years ahead, but definitely more prepared," Barkley said. "Plays are coming out of my mouth just like normal sentences and I'm seeing everything a lot clearer. I love the game plan we have so far. I've definitely made a lot of strides even since then."
Barkley, who starred at USC, vows that he'll be ready to play if needed Sunday at Soldier Field.
"I've been in big games before," he said. "I've played football at a high level. This is the NFL and I'm excited about that, but in my mind it's nothing new to me. I'm going to respect Tennessee's defense. They've done a great job thus far. In my mind, though, it's another game. I've been here before. So I'll just keep playing football."
In the event that Cutler will be unavailable Sunday, the Bears signed quarterback David Fales off the Ravens practice squad Wednesday. Fales was chosen by the Bears in the sixth round of the 2014 draft out of San Jose State and spent his first two years shuffling between the active roster and practice squad without appearing in a regular-season game.
"It was unfortunate with their injuries, but I'm excited," Fales said. "I'm glad to be back. I missed the guys, missed the coaches. It's good coming back to a place I'm familiar with."
It didn't take long for Fales to get re-acclimated to the Bears playbook.
"It was easy," he said. "After looking at it this morning, I was more familiar with this offense than I was with Baltimore. It wasn't that hard, and a lot of it is the same stuff."