When the Bears reported to training camp after bolstering their offense during a busy offseason, Jay Cutler said it felt like Christmas because there were so many "new toys for us to play with."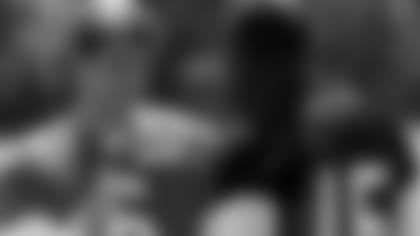 Expectations are high for Jay Cutler and Brandon Marshall in 2012.
With the regular season opener looming Sunday against the Indianapolis Colts, the veteran quarterback is even more excited about operating a more explosive attack in 2012.
Viewing Cutler as a cornerstone to build around, first-year general manager Phil Emery traded for Pro Bowl receiver Brandon Marshall; signed running back Michael Bush and quarterback Jason Campbell in free agency; and selected receiver Alshon Jeffery in the second round of the draft.
"We've got some guys that can play football on the outside. There's no doubt about that," Cutler said Wednesday. "Hopefully, it's going to make my job easier just being able to get them the ball and let them work."
Prior to Emery landing Marshall and Jeffery this year, the Bears hadn't acquired a Pro Bowl receiver or spent a high draft pick on a wideout since they did both in 2005, signing veteran Muhsin Muhammad and drafting Mark Bradley in the second round out of Oklahoma.
"I think in past years it has been 'defense first,' and for good reason," Cutler said. "They were really good at it; they won games. With Phil coming in, he made an emphasis to help out the offense and get some guys to help us be successful. Without some guys on the outside, it kind of limits what you are able to do offensively."
Cutler and Marshall formed a close bond and developed into Pro Bowlers while playing their first three NFL seasons together with the Denver Broncos from 2006-08. As Cutler's primary target, Marshall caught 102 passes for a career-high 1,325 yards and seven touchdowns in 2007 and had a career-best 104 receptions for 1,265 yards and 6 TDs in 2008.
"We did some good stuff when we were in Denver," Cutler said. "We were young. [Coaches] Mike Shanahan and Jeremy Bates were very good about putting us in situations for us to be successful, being very safe and at the same time trying to be explosive."
As they reunite with the Bears, Cutler and Marshall are both more polished players, leading some to surmise that they may form an even more potent partnership in Chicago.
"Expectations are high," Cutler said. "I told Brandon, 'You might get two balls this game.' I don't know. They might double-team him and play quarters on a side and make us throw it to Alshon and Devin [Hester] and Earl [Bennett] and those guys.
"That's what I would expect. But we've had game plans in the past and I didn't think he was going to get a ball and he got 15. We'll see how it goes."
The last time Marshall faced the Colts, he set an NFL record with 21 receptions while playing for the Broncos in 2009. The three-time Pro Bowler knows he won't catch that many passes Sunday and has grown accustomed to facing defenses designed to contain him.
"I'm going into my seventh year and I think every year I see more and more coverage, especially the past two years," Marshall said.
"The good thing about being here is we have Alshon Jeffery, Earl Bennett and we haven't even gotten to the backfield yet. It would be really hard for teams to really stop us with the guys that we have in the locker room. There's no coverage out there that I haven't seen. I'm prepared."
Even though Sunday's opener will be the offense's first game under coordinator Mike Tice, Cutler stressed that the goals remain the same as they've been since he joined the Bears in 2009. "Hopefully, we can score points, get better and convert third downs, and not turn the ball over," Cutler said. "It's the same stuff we've been talking about the last three years that successful football teams do.
"I think everyone is pretty comfortable where we are at offensively; it's just a matter of us going out and executing. Defensively, they are not going to surprise us at all, so hopefully we should have a clean game."