It appears that Bears quarterback Jay Cutler will be unable to play in Sunday's home game against the Baltimore Ravens due to a high ankle sprain.
Cutler sustained the injury in Sunday's loss to the Lions when he was hit by Detroit linebacker Stephen Tulloch while completing a 12-yard pass to Alshon Jeffery with 2:56 left in the first half.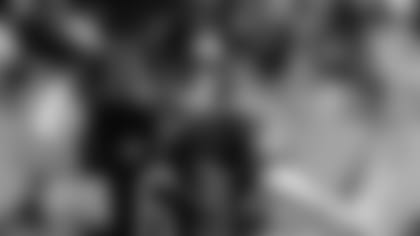 Jay Cutler passed for 250 yards with one touchdown and one interception Sunday against the Lions.
Bears coach Marc Trestman said Monday that Cutler's status is "week to week, and it certainly won't be this week," meaning that backup Josh McCown likely will start against the Ravens.
While the injury limited his mobility, Cutler remained in Sunday's contest until being removed with 2:17 to play after it was determined that he couldn't move around well enough to operate a two-minute drill.
The Bears stressed that the torn groin muscle that Cutler suffered Oct. 20 in a loss to the Redskins was unrelated to the ankle injury and didn't affect him against the Lions.
"He's got a high ankle sprain," Trestman said Monday. "He got it rolled on. They taped him up and there was no indication from the trainers that there would be any further injury. I asked them if the groin was an issue at all and they didn't feel that [it] was. They told me that even today, if he hadn't rolled up the ankle he would have been able to play today."
Cutler completed 21 of 40 passes for 250 yards with one touchdown, one interception and a 69.8 passer rating. He was replaced after awkwardly skipping a pass to a wide-open Jeffery along the left sideline with 5:41 left in the game.
On Monday, Trestman defended his decision to keep Cutler in for most of the second half, pointing to a handful of pinpoint passes he threw, including two to Jeffery. The receiver dropped the first one over the middle and appeared to score a 14-yard touchdown on the second, but the call was reversed after a replay review showed that Jeffery bobbled the ball after hitting the ground.
"It's very tough to pull your starting quarterback out when he's throwing the ball with velocity, when he's hitting his receivers, and he's able to move in the pocket and complete a throwing motion, and all those three indications confirmed with me that I should keep him in there," Trestman said. "I know we sacrificed his ability to move around and run, but that was the case [beginning late in the first half]. So I feel good about what we decided to do with him."
Trestman was asked what percentage Cutler has to be health-wise to be a better option than McCown.
"I can't answer that," Trestman said. "I can't do that through mathematics. It's just a feel thing. Are we moving the football team? The answer to that is yes. We were moving the football team.
"It's not percentages. He's our starting quarterback. He's our leader. If it's in the best interest of the football team and he can move the team and not hurt himself or the team, we want him to be in there and he wants to be in there.
"These things come up periodically in the course of seasons and in games with your starting quarterback, so you've got to make those decisions and they're not easy ones. But there's no regrets here."
On McCown's only possession, he capped a 10-play, 74-yard scoring drive with an 11-yard touchdown pass to Brandon Marshall with :40 remaining, drawing the Bears to within 21-19. But Matt Forte was stuffed on the subsequent two-point conversion.  
Playing in place of the injured Cutler the last three games, McCown has completed 42 of 70 passes for 538 yards with four touchdowns, no interceptions and a stellar 103.2 passer rating.