Bears quarterback Jay Cutler wore his familiar No. 6 jersey and tossed a ball around a bit during practice Monday at Halas Hall, but the timeline for his return remains unchanged.
Cutler is expected to miss at least three more weeks with a torn groin muscle he sustained Oct. 20 while being sacked in the Bears' 45-41 loss to the Washington Redskins.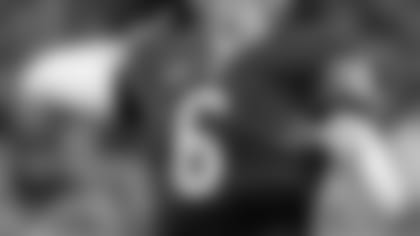 In five seasons with the Bears, Jay Cutler has compiled a 38-25 record as a starter.
"I'm encouraged by his sense for how he is improving," said coach Marc Trestman. "That's a positive sign. I think we have to stay within the framework that the doctors gave us. I think that is prudent right now, and we'll see where he is next week."
Cutler no doubt is eager to return, but he won't rush back before he's ready to play.
"He's trying to get better as quickly as he can," Trestman said. "I don't know that he's trying to push it. He wants to get back as soon as he can. I think we've got to stay in line with what the doctors have said and if it's better than that we would certainly be happy about that."
Good focus: Cutler's replacement, Josh McCown, looked sharp while operating the No. 1 offense in practice Monday for the first time this season as the Bears returned to work after their bye week.
"It's good to be back," Trestman said. "They came back with a lot of energy out here today. There was very little rust in terms of executing and getting through the practice.
"We executed very well today, and the ball was not on the ground. The guys caught everything. There was good focus. I thought it went very smoothly with [McCown] in there."
McCown excelled in relief of Cutler against the Redskins, completing 14 of 20 passes for 204 yards with one touchdown and a 119.6 passer rating. McCown's last regular-season start came in the 2011 season finale when he threw for 160 yards and one TD in a win over the Vikings.
Welcome back: Quarterback Jordan Palmer, who was signed to back up McCown, practiced Monday for the first time since being released by the Bears Aug. 30 as part of final cuts.
"Without practice I think he's in a very good spot right now," Trestman said. "He's retained quite a bit. He's got a good feel for what we are doing. I believe he could go in there and manage the game reasonably well at this point in time based on where he is today.
"He's not going to get the reps this week obviously. He's got to be ready to go. That's what veterans do. He'll work after practice and do the things he needs to do to be ready just like Josh did throughout the year."
On the mend: Cornerback Charles Tillman, who has been bothered by a knee injury since the second week of the season, did not practice Monday.
After sitting out a win over the Giants Oct. 10, Tillman started against the Redskins, but was forced to exit in the second half because of his knee.
"He says he feels better," Trestman said. "He says he is doing better and we are hopeful he will be able to practice this week as we move into the end of the week."
With their next game Monday night against the Packers, the Bears will practice again Tuesday, have Wednesday off and work out Thursday, Friday and Saturday.