Just in case last season didn't provide enough evidence, Jay Cutler wasted little time Saturday night showing how much more explosive the Bears offense is when he's operating it.
Making his preseason debut against the Redskins, Cutler completed a 41-yard pass down the right sideline to Brandon Marshall on the Bears' first play from scrimmage, equaling the offense's output in the entire first half of the preseason opener versus the Broncos.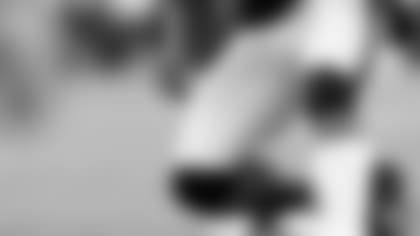 Receiver Brandon Marshall caught two passes for 61 yards in Saturday night's win. Cutler led the Bears to two touchdowns and one field goal on four possessions before exiting early in the second quarter after building a 17-0 lead en route to a 33-31 victory.
"It's fun to get back out there," Cutler said. "Last game it was tough to have to only watch. We had a good week of practice. I thought there was a lot more intensity and a bigger sense of urgency from the guys. We threw the first one to 'B' and we started rolling a bit."
Much to the delight of the Soldier Field crowd, Cutler completed 4 of 5 passes for 81 yards on the Bears' opening series to set up Michael Bush's 1-yard touchdown run.
"We talked about starting fast and I thought the guys came out, the first offense, and moved the ball," said coach Lovie Smith.
"We felt like they were going to gang up on the run, so it was an early drive by the offense where Jay Cutler was outstanding. I was pleased with what our first offense was able to do when they were out there."
After the teams traded punts, Israel Idonije sacked Robert Griffin III for the second time, stripping the ball from the rookie quarterback. Julius Peppers recovered the fumble at the Washington 8.
"Since we have [a lot of weapons] on offense, we have to get them the ball back," Smith said. "We got good pressure on the quarterback. That takeaway, of course, was big."
Two plays later, Bush rumbled up the middle for an 8-yard touchdown run, giving the Bears a 14-0 lead with :45 remaining in the first quarter.
"It felt good, but it's the preseason," Bush said of his two TDs. "I'd like it a lot more if it was the regular season, but it felt good being out there."
Cutler followed by completing a 19-yard pass to Earl Bennett, setting up Robbie Gould's 45-yard field goal, which widened the margin to 17-0 with 11:06 to play in the second quarter.
Cutler exited after completing 7 of 13 passes for 122 yards and an 86.1 passer rating.
The Redskins cut the deficit to 17-10 on Neil Rackers' 28-yard field goal and Brandon Banks' 91-yard punt return touchdown. Punter Adam Podlesh suffered a hip injury chasing Banks on the play and did not return, but he wasn't the only player the Bears lost to an injury.
Safeties Chris Conte and Brandon Hardin and linebackers Blake Costanzo and Jabara Williams also exited the game. Hardin was strapped to a back board after suffering a neck injury on the first play of the second half, but he was moving his arms and never lost consciousness.
After Gould's 28-yard field goal late in the first half, Lorenzo Booker returned the second half kickoff 105 yards for a touchdown, extending the Bears' lead to 27-10. Booker made two excellent cutback moves and was not touched by a Redskins player on the long return.
Gould's third field goal, a 19-yarder midway through the third quarter, made it 30-10. But the Redskins rallied behind rookie quarterback Kirk Cousins, who threw TD passes of 5 yards to tight end Niles Paul, 49 yards to receiver Aldrick Robinson and 20 yards to receiver Dezmon Briscoe with 2:04 to play. Cousins completed 18 of 23 passes for 264 yards and a 154.1 passer rating.
"I felt like we had control of the game until the end when Cousins came in and really played well for them at the quarterback position," Smith said of the former Michigan State standout.
[ ](http://www.phoenix.edu/campus-locations/il.html?utmsource=Story&utmmedium=instory&utmcampaign=300x100)
But the Bears answered as Gould drilled a line-drive 57-yard field goal with just :31 remaining, enabling Chicago to escape with an exciting 33-31 win. The kick came after undrafted rookie quarterback Matt Blanchard completed passes of 15 and 19 yards to fellow rookie tight end Evan Rodriguez.