Brandon Marshall understands why the Bears stuck with Jay Cutler for most of the second half Sunday, even after the quarterback suffered an ankle injury in the second quarter that limited his mobility.
Cutler eventually was replaced by backup Josh McCown with 2:22 remaining in the Bears' 21-19 loss to the Lions after it was clear he couldn't move well enough to operate a two-minute drill.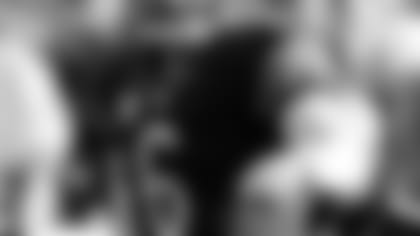 Jay Cutler threw an early touchdown pass to Brandon Marshall, but was unable to get the Bears into the end zone again in Sunday's loss.
"There are not a lot of Jay Cutlers walking the streets," Marshall said. "I'm talking everybody. I don't care how great Josh McCown does. He's awesome. I'm glad we have him as our No. 2. I don't think you can have a better No. 2, but Jay Cutler is our quarterback. No one can lead our team better than he can. Jay 80 percent is better than a lot of guys at 100 percent in the NFL."
Returning to start just three weeks after sustaining a torn groin muscle in a loss to the Redskins, Cutler capped the game's opening possession with a 32-yard touchdown pass to Marshall. But after hurting his ankle, Cutler spent the rest of the game limping noticeably.
"They taped him up at halftime and they said he was good to go and got back in there and he worked at it," said coach Marc Trestman. "I thought he made some plays along the way in the third quarter into the fourth quarter. That showed he wanted to be in there.
"We talked about [removing him] on the sideline. I didn't want to take him out unless he felt he couldn't do the job. He had, I thought, a very courageous performance throughout. And then at the end I took him out because I knew he would have to run around in the two-minute drill."
Asked by a reporter to identify some plays that justified keeping Cutler in the game, Trestman pointed to two passes he threw to Alshon Jeffery. The first one Jeffery dropped in the end zone and the second the receiver appeared to catch for a 14-yard touchdown. But the call was reversed after a replay review showed that Jeffery had lost control of the ball when he hit the ground.
"I thought [Cutler] stepped up and made some plays," Trestman said. "I'll look at the tape and see what the tape shows. I may come back tomorrow and say I made a mistake, I should have taken him out earlier."
On McCown's only possession, he completed 6 of 9 passes for 62 yards including an 11-yard TD pass to Marshall that drew the Bears to within 21-19 with :40 left in the game. But they failed to convert the two-point conversion and the Lions recovered the subsequent onside kick.
While his groin did not bother him, Cutler conceded that he felt hampered by the ankle injury.
"We taped it up and it was stiff, but I felt like I could go as long as I kept some movement in it," Cutler said. "It got worse and worse as we went on.
"I just asked [Trestman] at one point, 'Do I look OK and am I still getting it done,' because I felt really restricted in the pocket with what I was able to do. [The ball] wasn't getting out as quick. Some of my throws didn't have as much hum as I wanted. I knew Josh was ready to go and I just didn't want to get to the point where I was hurting us more than I was helping us."
Cutler's last play came with 5:41 remaining in the game and the Bears trailing 14-13. On third-and-11 from the Chicago 35, he had room to scramble but couldn't run. So he one-hopped a throw to a wide-open Jeffery along the left sideline.
"That's the cost-benefit analysis reasoning you make when you have your quarterback in there who's limited with his mobility," Trestman said. "We elected to keep him in the game and that's the price we paid for his inability to make the run at that time.
"He also was the guy we felt could be back there to make the throw, at the right time, at the right place, if he had the opportunity as well."
Cutler completed 21 of 40 passes for 250 yards with one TD, one interception and a 69.8 passer rating. X-rays on his ankle after the game were negative, but it's not known whether he'll be able to play next Sunday when the Bears host the Ravens at Soldier Field.
"I don't know," Cutler said. "We will see tomorrow, see how I feel and go from there."