Jay Cutler thinks he knows why Devin Hester recently said that he's contemplating retirement, but the Bears quarterback hopes that Hester not only keeps playing but remains his teammate.
"He's one of the most dynamic players in the NFL with the football," Cutler said Wednesday during the final installment of his weekly radio show on ESPN 1000. "You don't want to go against a guy like that on the other side. You don't want to see him on the other sideline."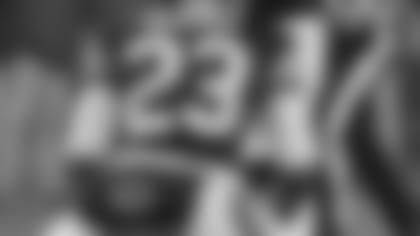 Jay Cutler throws a pass to Devin Hester during a Week 10 loss to the Houston Texans at Soldier Field.

A few hours after learning that Lovie Smith had been dismissed as Bears head coach Dec. 31, a frustrated Hester told reporters that he was thinking about retiring.

While most assumed he was upset about the coaching change, Hester later clarified on Twitter that "the reason why I feel like retiring has nothing to do with Lovie Smith getting fired. It's hard to play this game when you're not happy or having fun at what you love to do in life."

Hester's production declined this season. His 23 catches were the fewest since he was converted from a defensive back into a receiver in 2007, and his 242 yards were a career low. His reception total has declined each of the past three years from a career-high 57 in 2009 to 40 to 26 to 23.

Hester's unhappiness could stem from a lack of playing time. In the final two games of the season in Arizona and Detroit-contests the Bears had to win to keep their playoff hopes alive-he was rarely on the field and was not targeted with a single pass.

"Whenever you go out there and you don't do the things you think you can do on the football field, it's frustrating," Cutler said. "Frustration builds up and builds up and it forces you to think about doing other things I guess."

Roster moves: The Bears on Thursday signed tight end Fendi Onobun and linebacker Lawrence Wilson to reserve/future contracts.

Onobun has appeared in four NFL games over two seasons with the Rams (2010) and Jaguars (2011), catching two passes for 15 yards.

The 6-6, 260-pounder was selected by St. Louis in the sixth round of the 2010 draft. Onobun has also spent time on practice squads with the Seahawks and Redskins and was most recently with the Bills during the 2012 preseason.

The Houston native played one season of college football at the University of Houston after playing four years of basketball at the University of Arizona.

Wilson was selected by the Panthers in the sixth round of the 2011 draft. The 6-1, 229-pounder has also been with the Titans and Saints, but has not appeared in an NFL regular-season game.

Faith in Phil: Count Bears running back Matt Forte among those who have total confidence that general manager Phil Emery will hire the right coach to replace Smith.

"I've got a lot of faith in Phil and I'm not saying that just because he was the one who came in and signed me to a new contract," Forte told former Bears teammates Nate Vasher and Jason McKie this week on ChicagolandSportsRadio.com.

"Just look at what he's done so far with the signing, and we had a lot better draft than we've had in past years with players who come in and contribute early.

"I've seen him after games. He'll come into the [locker] room and talk to me about how the game went and some big plays that were made. I've never had that happen in past years. It kind of says something when the GM comes in and talks football with you after a game."

Medical marvel: Appearing on the same show with Vasher and McKie after Forte, former Bears safety Mike Brown marveled at what Vikings running back Adrian Peterson accomplished this season.

Peterson led the NFL in rushing with a career-high 2,097 yards and 12 touchdowns on 348 carries after tearing the ACL and MCL in his left knee on Dec. 24, 2011.

"What he did this year, I can't even understand it," Brown said. "I [tore my] ACL [in 2007] and my ACL's still not right. So for him to do what he did, I know he was in pain.

"He's an amazing player. I really never thought I would compare anyone to Bo Jackson. But that dude has everything; power and he's superfast. That's what separates him. He's a very powerful back and he has world-class speed. He's a hard person to tackle."

Sad news: Former Notre Dame star Mirko Jurkovic, a Chicago area native who was selected by the Bears in the ninth round of the 1992 draft, died Wednesday of colon cancer. He was 42.

After starring at Thornton Fractional North High School, Jurkovic went to Notre Dame, where he earned four letters and was a member of the 1988 national championship team. He played his final three seasons at guard after lining up at defensive tackle as a freshman.

Jurkovic, whose brother John played nine NFL seasons and is a popular sports radio host in Chicago, is survived by his wife Angie; and children Mirko, Claire and Samantha, among others.