One day after Jay Cutler sustained a torn groin muscle Oct. 20 in a loss to the Redskins, the Bears announced that their starting quarterback would be sidelined for at least four weeks.
The timetable hasn't changed. But in his first interview since suffering the injury, Cutler told reporters Tuesday in the Walter Payton Center that he hopes to return sooner.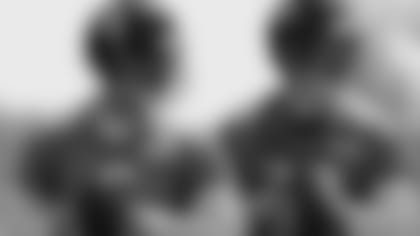 Jay Cutler (left) will be replaced by Josh McCown Monday night when the Bears face the Packers.
"That's the goal," Cutler said after watching practice for the second straight day. "I'll push it as much as I can. That's the trainers' and the doctors' [decision]. When they say you can go, you go."
Coach Marc Trestman said Monday that the timeline hasn't changed, but he acknowledged Tuesday that that doesn't mean Cutler will definitely be out that long.
"I don't decide when Jay comes back or when any player comes back," Trestman said. "The doctors make that decision. What I was doing was reiterating the prognosis of the doctors.
"They're not always right. It could happen faster. Jay's optimistic; we all are. But I'm not saying we're not bringing Jay back for four weeks. That's what the doctors have said and we'll work off that timeline. If it happens quicker, that'd be great."
Receiver Brandon Marshall has said in multiple interviews that he thinks Cutler will be back in two weeks, possibly as soon as the Bears' home game against the Lions a week from Sunday.
"He's optimistic, and so am I," Cutler said. "So we'll see how it goes."
"Brandon is a teammate and he's optimistic that his teammate will be back," Trestman said. "He's not the doctor. When I talk about a player's prognosis to play, it's not mine. It's what the doctors have said is the normal. That doesn't mean that Jay can't beat the odds and come back quicker."
With the Bears (4-3) set to battle the Packers (5-2) Monday night in Green Bay, Cutler has switched roles with backup quarterback Josh McCown, helping his teammate prepare to make the start.
"It's tough watching," said Cutler, who will miss his ninth start due to injury in five seasons with the Bears. "It's always the hardest part; not being able to do your job with the rest of the guys. I've just got to help Josh as best as I can and when I get back, I get back.
"We're just going through the reads, just looking at film. He's been around a long time. So there's not much I can tell him that he hasn't seen or done."
Cutler has complete confidence in McCown, an 11-year veteran who excelled in relief against the Redskins, completing 14 of 20 passes for 204 yards with one touchdown and a 119.6 passer rating.
"Josh is going to do the job," Cutler said. "We've got a good game plan coming in. The coaches have done a great job all year of protecting guys at the quarterback position. Josh fared well against [Washington]. He played well. He'll play well again this week as well."
McCown's last regular-season starts came in the final two games in 2011 when he completed 19 of 28 passes for 242 yards with one touchdown and two interceptions in a loss in Green Bay and 15 of 25 passes for 160 yards with one TD and one interception in a win in Minnesota.
McCown is surrounded by a better supporting cast than other backup quarterbacks have been when they've replaced Cutler, starting with his pass protection up front.
"We've got a lot of talented guys," Cutler said. "The offensive line is playing really well. That's what made my job easier. It's going to make his job easier as well."