On his weekly radio show Monday, Jay Cutler discussed Sunday's 23-17 overtime loss to the Seahawks, the offensive line and the possibility of the Bears signing a receiver.
Appearing on ESPN 1000 with Tom Waddle and Marc Silverman, Cutler described the bitter defeat as "a game you've got to have and we should have had, so it's a heartbreaker."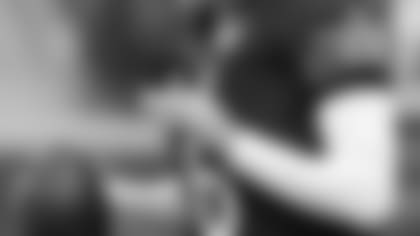 Jay Cutler looks for a receiver during the Bears' 23-17 overtime loss to Seattle.
"It's a tough one," Cutler said. "You want to win those games. I just think back to offensively what we could have done better, what I could have done to pull that out and not put us in that position."
Cutler had one of his best games of the season, completing 17 of 26 passes for 233 yards with two touchdowns and a 119.6 passer rating. He also scrambled for 27 yards on four attempts.
A makeshift offensive line that featured a different starting five for the third straight week held the Seahawks to only one sack and helped the Bears compile 358 yards without committing a turnover.
"They're playing better," Cutler said. "It's a work in progress, shifting guys around. They're doing the best they can I think on short notice and not playing together very often."
The Bears entered the game without two of their top four receivers in Alshon Jeffery (knee) and Devin Hester (concussion), and then lost Earl Bennett to a concussion.
Asked if he thought general manager Phil Emery should consider signing a receiver this week, Cutler said: "Phil's on it. I have a lot of trust and faith in him as our general manager, so if he explores a little bit he explores a little bit.
"It would have to be a veteran. It would have to be somebody that has played in the league and knows what it takes week-in and week-out. I don't think you could bring a young guy in and throw him into this offense at this point."
Brandon Marshall is having a monster first season with the Bears, ranking second among NFL receivers in both receptions (91) and yards (1,182). With no other Bears wide receiver having more than Bennett's 23 catches, the team is looking for another player to step up and contribute.
"It's getting a little more difficult," Cutler said. "We hopefully will get Alshon back this week. Hopefully Devin may be back this week. We've got to have a presence on the other side for 'B.'
"It kind of surprised me how much [single safety the Seahawks played], knowing the ball's going to 'B' if we throw it. But that's how they play defense. Minnesota is a cover-two team, so they're going to try to double 'B' as much as possible [on Sunday]."