When coach John Fox self-scouted the Bears on tape during the bye week, one thing stood out.
"[Jay Cutler's] production on third down I think was the biggest positive I saw," Fox said Thursday. "Compared to what he's done in the past, it was pretty good."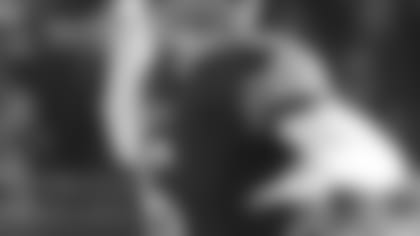 Quarterback Jay Cutler has excelled on third down this season, making plays with his arm and legs.
While Cutler ranks 20th in the NFL with an 86.2 passer rating, he's fourth with a 114.0 rating on third down, having thrown for 529 yards with three touchdowns and one interception.
"You've got to throw it pretty good [on third down]; not too many mysteries for the defense about what's about to happen," Fox said. "Considering all the things we've gone through on the offensive line and the receiving corps, I thought that was pretty impressive."
Cutler has routinely bought time in the pocket with his feet, creating big plays in key situations.
"His ability to make plays with his legs has been critical for us," said offensive coordinator Adam Gase. "He's bailed us out of a lot schematically. He's done a good job of picking up pressures. He's done a good job of staying in the pocket when he does get guys blocked up and then he'd done a good job of making some plays outside the pocket. That's been key for us, and like I said, he's saved us on some bad plays."
Aches and pains: While the Bears finally have a healthy receiving corps, they're ailing up front. Center Hroniss Grasu sat out practice Thursday after hurting his neck in Wednesday's workout, while tackle Jermon Bushrod (shoulder), guard/center Matt Slauson (knee/shoulder) and guard Patrick Omameh (ankle) all were limited.
Slauson is listed second on the Bears depth chart behind Grasu at center and played the position in a Week 4 win over the Raiders after veteran Will Montgomery exited with an injury.
"Slau has done it before, so if we have him in there, we feel good about that," Cutler said. "Pat is coming back. It's kind of rotating up there. Whoever is up there, it's kind of who we're going to go with. I have confidence in them. I know our game plan will help them out some. At the end of the week, we'll have it figured out."
In other injury news, linebacker Shea McClellin (knee) and defensive lineman Bruce Gaston (illness) did not practice Thursday, while safety Antrel Rolle (ankle) was limited.
Still waiting: The Bears secondary has yet to generate a takeaway through six games, but defensive coordinator Vic Fangio doesn't seem too worried.
Since veteran Antrel Rolle hurt his ankle Oct. 4 against the Raiders, Jonathan Anderson has started the last two games opposite fellow rookie Adrian Amos at safety.
"We've got some new faces back there," Fangio said. "We've got to help them more. We've got to put a better pass rush on the passer. That is part of the equation too. We've just got to get closer and make a few plays on the ball. We've got nowhere to go but up. It will happen at some point."
High praise: Watching tape in preparation for Sunday's game at Soldier Field, Vikings star running back Adrian Peterson has been impressed with Bears outside linebacker Pernell McPhee.
The free-agent acquisition is the first Bears player to record at least four sacks and one interception in the first six games of a season since Brian Urlacher in 2000.
"He is a man among children out there," Peterson said. "He's fast, he's strong. He gets to the ball. He has a nose for the ball and he's trying to make you feel him on each and every play. I love guys like that, that go out and compete like that. I'm looking forward to playing against him."