For the second straight year, the first day of free agency felt like Christmas morning to Jay Cutler.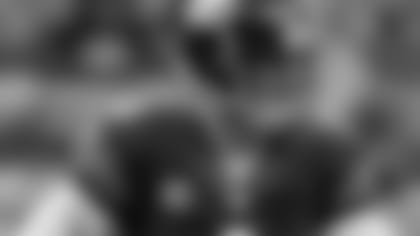 Bears quarterback Jay Cutler is elated about the team landing two key free agent starters.
The veteran quarterback praised general manager Phil Emery and the rest of the front office after the Bears added two key components to their offense, agreeing to terms with two-time Pro Bowl left tackle Jermon Bushrod and versatile playmaking tight end Martellus Bennett.

"Obviously they were being very proactive, Phil and the scouts and Cliff [Stein]," Cutler told ChicagoBears.com. "They had some guys targeted and we didn't waste any time. Any time you add the caliber of players that we're adding to the offense, it's definitely going to help."

Cutler felt the same way on the first day of free agency last year when the Bears landed Pro Bowl receiver Brandon Marshall in a trade with the Dolphins. On Tuesday, Cutler was thrilled about the acquisition of one of the NFL's best left tackles and a very talented tight end.

Bushrod, 28, joins the Bears after playing his first six NFL seasons with the Saints. The 6-5, 315-pounder helped lead New Orleans to a Super Bowl championship in 2009, has been voted to each of the last two Pro Bowls, and has started all 16 games each of the last three years.

"He played on a very explosive offense and is a true professional," Cutler said Tuesday night. "We just exchanged text messages. He's excited to come here. He's excited about the opportunity and I'm excited to play with him. To have a guy like that who's capable of locking down the back side, it frees up a lot of things you can do in both the passing game and the running game."

Bennett, 26, spent his first five NFL seasons with the Cowboys (2008-11) and Giants (2012). The 6-6, 265-pounder set career highs in all receiving categories last season with New York, catching 55 passes for 626 yards and five touchdowns while starting all 16 games for the first time.

Cutler is familiar with Bennett's background as a high school basketball star who continued to play the sport when he first arrived at Texas A&M before deciding to focus solely on football.

"He's explosive and he's an incredible athlete," Cutler said. "He's explosive in the passing game and he's also a really good blocker, and I think that's what sets him apart.

"You can leave him on the field and get preferable match-ups with linebackers and be able to run the ball as well if they put in [an extra defensive back]. He's a match-up problem for defenses, which with a guy like [new head coach] Marc Trestman, we'll be able to take advantage of."

As far as Cutler is concerned, the first day of free agency went about as well as could be expected.

"We're addressing some needs offensively," Cutler said. "Phil has a great plan going forward. We're not going to be able to get everyone we want, but we're definitely adding guys with real value who are going to help not only this offense but the whole team in general."