Jay Cutler spent the first segment of his radio show Tuesday praising his blockers as well as offensive coordinator Mike Tice following Monday night's impressive 34-18 win in Dallas.
"The offensive line played great," the Bears quarterback said on "The Jay Cutler Show" on ESPN 1000. "We got the running game going early. They protected. We had a good game-plan. I thought Mike Tice called the best game to date. It was fun. It was a lot of fun."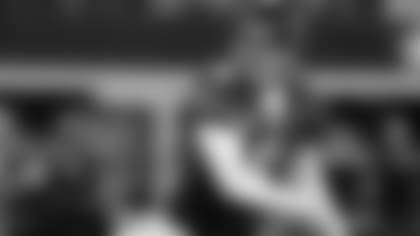 Jay Cutler passed for 275 yards and two touchdowns in Monday night's win.
Cutler completed 18 of 24 passes for 275 yards with two touchdowns, no interceptions and a 140.1 passer rating that was the third highest of his seven-year NFL career.
"The first three games we're figuring it out, we're getting our game plan under us," Cutler said. "Mike's figuring out calling plays, I'm gaining trust with the offensive line.
"There are a lot of moving parts and it just kind of came together [Monday] night. I thought the offensive line played great top to bottom, run game, pass game. Mike had a really good rhythm with his calling plays, mixing it up, play-action, run, took a few shots. It was well executed."
Cutler lauded the performance of left tackle J'Marcus Webb, who helped prevent Cowboys star pass rusher DeMarcus Ware from being a big factor in the game. Ware recorded one sack-forcing a fumble that Dallas recovered-but Webb wasn't responsible for that play.
"[Webb] played well," Cutler said. "We gave him a little bit of help, but there were some plays where we just left him wide open and said, 'Hey, you've got to block him,' and he was up to the challenge. The one sack was my fault. I've got to get rid of that ball, but other than that those guys really took it to them. They dominated the front seven."
The protection up front allowed Cutler to connect repeatedly with Pro Bowl receiver Brandon Marshall, who caught seven passes for a season-high 138 yards and one touchdown.
"[Marshall] played within the system," Cutler said. "We've got a lot of plays designed for Brandon. Whenever we do get a lead, teams are going to play single-high and try to come get us and stop the run, so it's going to open him up.
"I felt those first three games he just wanted to make big plays so badly that he was getting a little bit out of rhythm, doing things that he shouldn't do. I felt this game he did exactly what we asked him to do, and when the ball came to him he made plays for us."
Cutler threw TD passes of 31 yards to Marshall and 34 yards to Devin Hester, who toasted rookie cornerback Morris Claiborne with a double move.
"[Hester] is very electrifying," Cutler said. "We've just got to put him in situations for him to be successful. Running double moves or running deep stuff and getting him the ball in open space and bubbles and things of that nature is what he excels at. He's an unbelievable route runner and it was a great call there."
The Bears also got tight end Kellen Davis involved in the offense. The fifth-year pro had three receptions for a career-high 62 yards after dropping a pass over the middle in the first quarter.
"[Davis] played well," Cutler said. "I went to him early, put one on him and it bounced off of him. He rebounded and made a big catch on a third down on a corner [route] and another corner he went up and got it, took it away from a guy.
"He's gaining more and more confidence. He's such a big target. He's such a weapon. We've just got to keep grooming him, keep moving him along and building him because he can play for us."
Cutler was also impressed with a Bears defense that intercepted five Tony Romo passes, and returned two of them for touchdowns.
"That defense is tough," Cutler said. "They're so hard to go against. When you get into the passing game and you're one dimensional against that defense, they're suffocating. The front four's going to come get you. They get to their spots and there's not a lot of windows. They're really good, they really are, and it seems like they're getting better and better each week."