Quarterback Jay Cutler and the rest of the Bears' No. 1 offense are expected to play 12-15 snaps in Thursday night's preseason opener against the Miami Dolphins at Soldier Field.
"We want to get in and out of the huddle," Cutler said Tuesday. "We want to limit our mistakes, our mental errors. We want to get some first downs and move the ball and just kind of attack like we have been trying to do throughout camp."
Cutler has performed well since arriving in Bourbonnais, not throwing an interception in 7-on-7 or 11-on-11 drills in the first 11 practices. Last season the veteran quarterback tossed a career-high 28 touchdown passes, but tied for the NFL lead with 18 interceptions.
Cutler attributes his interception-free camp to a variety of different factors and people, including offensive coordinator Adam Gase and position coaches Dowell Loggains (quarterbacks), Mike Groh (receivers) and Frank Smith (tight ends).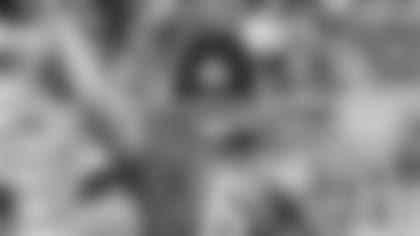 Jay Cutler during training camp practice.
"I think it's a combination of everything," Cutler said. "Adam does an incredible job scheme-wise and putting quarterbacks in the right position. But a lot of it goes on the offensive line, the way they've played throughout camp, and the receivers getting open.
"They all have got to do their job and I've got to put it in the right spot, and those 10 other guys have done a really good job. And Adam, Dowell, Mike and Frank and everybody else on board with the passing and getting their guys finally tuned is helping."
Cutler laughed when asked whether not throwing an interception in training camp means that he won't be picked off during the regular season either.
"You never know," Cutler said. "Camp's camp. We're not getting hit. These aren't live bullets. So we'll see what happens when we start going."
Cutler is playing for his fifth different offensive coordinator in seven seasons with the Bears, with Gase following Ron Turner, Mike Martz, Mike Tice and Aaron Kromer.
On Monday, Groh praised Gase for designing his offense around the talent that's available to him, not the other way around like so many coaches do.
"That's definitely true," Cutler said. "We're not going to run things if a guy can't do it or if someone's uncomfortable with it because we don't want negative plays. And Adam doesn't want to put us in positions where we might fail.
"We're doing everything in our power to get good schemes, but along that line of not running blanket plays. If a guy runs a route a certain way and does a good job with it, let's let him run it. If a different guy isn't so good, let's find something that he's better at."
Cutler has benefitted from working in Bourbonnais with receivers Alshon Jeffery, Eddie Royal and Marquess Wilson, all of whom are having impressive camps.
Jeffery made a handful of excellent catches Monday and stood out once again on Tuesday.
"Today he had a great day," Cutler said. "From spring until now, he's been consistent. He's been one of those of guys who each and every day comes out here, works hard and runs good routes. I think he's done a good job off the field of learning the terminology, learning the details of what we're asking him to do, and it's showing on the field."
Up front, Cutler is sensing that the offensive line is developing an identity, with left tackle Jermon Bushrod, left guard Matt Slauson, center Will Montgomery, right guard Kyle Long and right tackle Jordan Mills.
"I think you are starting to see that," Cutler said. "Those guys are really close together. They like the offense, they like our ability to run the ball. They like the up-tempo stuff. It gives them a little bit of an advantage with some of our snap count stuff and getting on the ball quickly.
"So those guys are doing great. Just like everybody else in the offense, we've got to take that next step and continue to get better and translate some of this practice stuff over to games."