Jay Cutler threw the game-winning touchdown pass in Sunday's season opener. But the Bears may not have rallied to beat the Bengals had the quarterback not made two key plays with his legs.
Trailing 21-10 late in the third quarter, Cutler bolted out of the pocket and connected with tight end Martellus Bennett for a 30-yard gain on third-and-seven. Five plays later, Matt Forte's 1-yard touchdown run drew the Bears to within 21-17.
On second-and-20 early in the fourth quarter, Cutler dashed up the middle for 18 yards. Two plays later, Forte gained eight yards around right end on fourth-and-one and Cutler followed by hitting Brandon Marshall with the game-winning 19-yard touchdown pass on the next play.
"The two plays that really resonate with me offensively were Jay's scramble, hitting Martellus for the big gain and then Jay scrambling," said coach Marc Trestman. "They were in a two-deep man under coverage. We had a throw on to Brandon and they covered it well. Jay found the lane and got us in position where we could make a first down."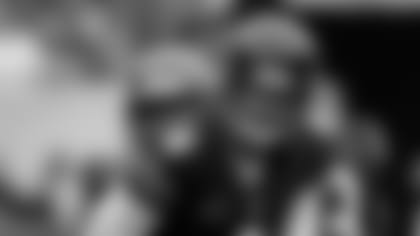 ](http://www.chicagobears.com/multimedia/photo-gallery/AP-Bears-vs-Bengals/1499d271-17d6-439d-92fa-2708ae47a9e8)

Jay Cutler found open space to run on Sunday and was able to set up two crucial late-game scoring drives.
**Click to view photos from the game.**
Cutler was happy to make plays with his legs, in part because it helped an offensive line that provided solid pass protection all game. Playing with four new starters, including rookies Kyle Long at right guard and Jordan Mills at right tackle, the Bears did not allow a sack.
"The line likes that. When I'm able to break the pocket and make some yardage and find somebody on the move, it takes some pressure off them," Cutler said. "You've got to give those guys up front a heck of a lot of credit for this victory."
Showing composure: Mills helped the Bears clinch the win by drawing a crucial 15-yard penalty against Bengals linebacker Rey Maualuga late in the game.
After Michael Bush was held to one yard on third-and-six, the Bears would have had to punt from the Cincinnati 44 with just under a minute to play. But Maualuga threw Mills to the ground after the whistle, drawing a flag that gave the Bears an automatic first down. With Cincinnati out of timeouts, Cutler killed the clock with two kneel-downs.
"It was grind time," Mills said. "We needed a first down to win the game. I got up to '58.' I was not letting him get off of me. I was blocking him until I heard the whistle blow. There was a little pushing and shoving after. He pushed me. As much as I wanted to hit him back, I had to keep my composure, and he got the flag and we won."
Trestman was impressed with the restraint that Mills showed.
"I think that says a lot," Trestman said. "We go through these special situations. In these types of games that's exactly what happens. The defense is looking for us to retaliate because they're trying to buy time and buy the penalty. I thought it was a great outcome, some real poise. Also, he had a couple of teammates around him who made sure that nothing came of it as well."
Successful debut: Trestman joined Hall of Famer George Halas (1920), Neill Armstrong (1978) and Dick Jauron (1999) as the only Bears head coaches to win their first game.
"I really don't tend to think about it," Trestman said. "It's a 60-minute game. I asked the guys to be great teammates today. That's all I asked of them is to go out there and be great teammates to each other. They didn't play 30 minutes; they played 60 minutes of football. I give them all credit.
"Sundays are for the players. Sunday is the players' day to celebrate the privilege of playing in the National Football League. I think they stood by that today."
Roster news: Veteran D.J. Williams started at middle linebacker and played the majority of the game, recording three tackles. Corey Wootton opened at left defensive end and split time with Shea McClellin, who recorded the game's only sack.
Bears inactives were receiver Marquess Wilson, cornerback C.J. Wilson, running back Michael Ford, offensive lineman James Brown, tight end Dante Rosario, defensive end David Bass and defensive tackle Zach Minter.