The cohesiveness that Jay Cutler and Brandon Marshall first developed as Broncos teammates helped the Bears produce their only touchdown in Monday night's 13-7 win over the Lions.
When linebacker Justin Durant cut off the route Marshall was supposed to run, the Pro Bowl receiver made an adjustment and then locked eyes with Cutler, who delivered the ball for a seven-yard TD pass.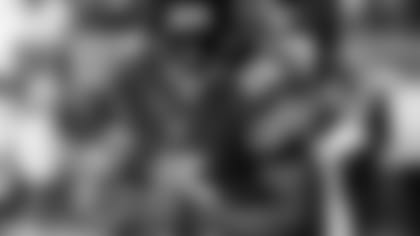 Receiver Brandon Marshall catches a 7-yard TD pass in Monday night's 13-7 win over the Detroit Lions.
"I was supposed to run behind the line of scrimmage and get in the flat," Marshall said. "But [Durant] got up field and got in my way, so I had to find a hole. So I shot up the field and Jay's eyes lit up, so I knew I was open. He told me to stop right there with those eyes and we scored."

Dominant D: Cutler was once again impressed with the Bears defense, which has scored five touchdowns while allowing only three TDs during the team's current four-game winning streak.

On Monday night, the Bears forced four takeaways and held the Lions scoreless until Matthew Stafford threw a 12-yard touchdown pass to Ryan Broyles with :12 remaining in the game.

"Those guys are playing so well," Cutler said. "They're flying to the ball, stopping the run, making it tough to get to the pass, being tough down there at the goal line. You can't say enough about the way that they're playing and coming together and rallying all through the game. It's hard to hold an offense like that down all the way through the game, but they did it."

Hot corner: Lions coach Jim Schwartz praised Bears cornerback Charles Tillman for containing receiver Calvin Johnson, who was limited to three receptions for a season-low 34 yards.

"I think credit has to go to Tillman," Schwartz said. "He matched Calvin pretty much the whole game and they did a good job and combined that coverage with pass rush."

Welcome back: Receiver Earl Bennett returned to action after missing two games with a hand injury, catching three passes for 27 yards and recovering an onside kick to preserve the win.

"It felt good to get back out there and make plays and help move the ball," Bennett said.

Flag parade: While the Bears offensive line helped open holes for a running game that produced 171 yards on 32 carries, the unit committed six penalties: two on right tackle Gabe Carimi for holding, two on center Roberto Garza for false starts and one each on left guard Chilo Rachal and right guard Lance Louis for unnecessary roughness and a false start, respectively. The only offensive lineman who didn't draw a penalty was left tackle J'Marcus Webb.

Brief appearance: Backup quarterback Jason Campbell took three snaps after Cutler exited temporarily with bruised ribs late in the first half, scrambling for five yards, completing a pass for no yards to running back Matt Forte and handing off to Forte on a run that gained two yards.

This and that: Marshall tweeted that he and Johnson exchanged jerseys after the game. ... Julius Peppers recorded one of two Bears sacks, giving him 11 in nine career games against the Lions. The other sack was split between Stephen Paea and rookie Shea McClellin. ... The Bears have now won six of seven games immediately following their bye since 2006. ... Lions receiver Nate Burleson was lost for the season with a broken leg when he was tackled by cornerback Tim Jennings on a 16-yard reception early in the third quarter.