Jay Cutler and Brandon Marshall orchestrated another aerial show Sunday at Soldier Field, but their heroics weren't enough to prevent a 23-17 overtime loss to the Seahawks.
The two longtime teammates connected on 10 passes for 165 yards, including a desperation 56-yarder that set up Robbie Gould's game-tying 46-yard field goal as time expired in regulation.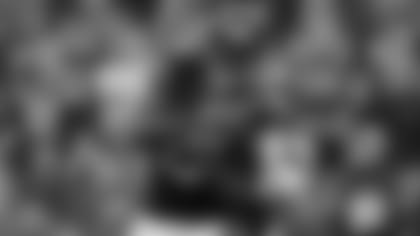 Brandon Marshall leaps high to catch a Jay Cutler pass in Sunday's loss.
"I told Brandon to run as fast as he could down there and I'll throw it to you and you make a play," Cutler said. "That's what he did. I just tried to buy some time in the pocket, bounce around a little bit, and found him. I put it up and he did a great job of coming back for it."
Marshall's 165 yards were the most by a Bears receiver since Marty Booker had 198 against the Vikings on Sept. 8, 2002. Marshall now has six 100-yard games this season.
Cutler completed 17 of 26 passes for 233 yards with two touchdowns and 119.6 passer rating. Prior to Sunday, Cutler had been 25-0 in his career when posting a passer rating of at least 100.
Asked if he was surprised the Bears defense was unable to hold a late 14-10 lead, Cutler said: "It's surprising. Our defense takes a lot of pride in that.
"Offensively, I'm going to worry about our offense and what we can do. I still think we never should have put them in that position. We never should have been there. We missed some points and missed some opportunities offensively to really put the game away."
Up front: The Bears started their third different offensive line combination in as many games, employing the same lineup that closed last Sunday's win over the Vikings.
The unit consisted of J'Marcus Webb at left tackle, Edwin Williams at left guard, Roberto Garza at center, Gabe Carimi at right guard and Jonathan Scott at right tackle.
"I felt like they did an OK job," said coach Lovie Smith. "Offensively, we did what we needed to do to stay in the game. We just needed to get some help in other places."
Aches and pains: The injuries continued to pile up for the Bears, who lost middle linebacker Brian Urlacher (shoulder) and cornerback Tim Jennings (shoulder) late in Sunday's game and receiver Earl Bennett (concussion) early in the contest. Safety Chris Conte exited early with illness.
The Bears were already playing without guards Lance Louis (knee) and Chris Spencer (knee), and receivers Devin Hester (concussion) and Alshon Jeffery (knee).
Breaking trends: Before losing Sunday, the Bears had been 7-2 in overtime and 49-9 when winning the turnover battle since Smith became coach in 2004. They had also had been 21-1 when leading after the first quarter since 2009 and 22-1 when leading after the fourth period since 2010.
More numbers: Marshawn Lynch rushed for 87 yards on 19 carries against the Bears defense. ... Matt Forte's 10-yard run in the third quarter was his first gain of more than eight yards in his last 67 carries over a four-game span. ... The Bears yielded TD drives of 94, 97 and 80 yards.