The chemistry that Jay Cutler and Brandon Marshall have regularly displayed in training camp materialized in Saturday night's 33-31 preseason win over the Redskins at Soldier Field.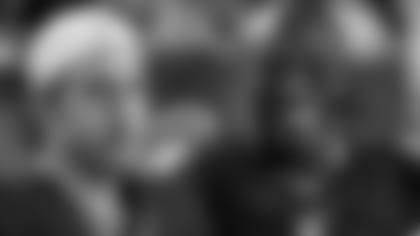 Jay Cutler watches second half action with Brandon Marshall Saturday night.
The dynamic quarterback and receiver connected on completions of 41 and 20 yards on the Bears' opening possession, setting up Michael Bush's one-yard touchdown run.
"It's important because of course you have to have it on the practice field first, but we all want to see it in the games," said coach Lovie Smith. "That combination is going to go for a lot of yards, a lot of catches and hopefully a lot of touchdowns.
"Both of them are outstanding football players, and if we give them time, we can do some things."
On the Bears' first play from scrimmage, Cutler heaved a deep pass down the right sideline to a wide open Marshall, who beat cornerback Cedric Griffin.
"You never know what defenses you're going to get," Cutler said. "They came out in press man and took a shot and did it so it was a good start. We're not exactly where we want to be with just a few things, so there is still a lot we have to clean up."
Cutler completed 7 of 13 passes for 122 yards and an 86.1 passer rating on four series before exiting early in the second quarter with the Bears leading 17-0.
Backfield in motion: Reserve running back Michael Bush staked the Bears to an early 14-0 lead with touchdown runs of 1 and 8 yards. He finished the game rushing for 21 yards on five carries.
"We know Michael can run it between the tackles, but I think it was good for him to show everyone that he can make you miss also," Smith said.
"I think his second touchdown run, the guy was one-on-one in the hole. It was a great cut by him to make a guy miss. He is a big back and can do a lot of good things."
After sitting out the preseason opener against the Broncos, starting running back Matt Forte rushed for 16 yards on four carries. Third-stringer Kahlil Bell ran for a game-high 36 yards on 10 attempts.
Scary moment: Third-round draft pick Brandon Hardin injured his neck on the first play of the second half while tackling tight end Logan Paulsen on a pass play over the middle.
The rookie safety remained down for about 10 minutes. He was placed on a back board and wheeled slowly off the field. Fortunately, Hardin was able to move his hands and arms.
"When you see a player get taken off on a stretcher, it is not a good thing," Smith said. "[But] I think Brandon Hardin will be OK. He was moving everything, he was alert, conscious throughout, so hopefully everything will be OK with him."[ ](http://www.phoenix.edu/campus-locations/il.html?utmsource=Story&utmmedium=instory&utmcampaign=300x100)
Crystal ball: Robbie Gould, who kicked the game-winning 57-yard field goal with :31 remaining in the fourth quarter Saturday night, may have a future as a psychic when he retires from football.
"When they went ahead 31-30, Robbie Gould, right after they scored, came over to me and said, 'Lovie, we are going to get the ball, we are going to go down and kick a 58-yard field goal and we are going to win the game,'" Smith said. "I guess he was off by a yard, but it was a big night for us and we got some good things done."