Jay Cutler stood in the exact same spot to address the media Thursday at Halas Hall as he did a week earlier, but the Bears quarterback was clearly in a much better place.
Cutler told reporters that he felt more relaxed and "kind of at ease" after weathering one of the most difficult weeks of his NFL career. With debate swirling about whether the Bears should stick with Josh McCown, Cutler felt pressure heading into last Sunday's game in Cleveland.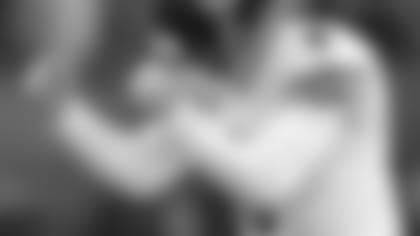 Jay Cutler was happy with the developments in the second half of last Sunday's game in Cleveland.
After throwing two first-half interceptions, he rebounded with three touchdown passes in leading the Bears to a 38-31 comeback win that helped catapult them into first place in the NFC North.
"Last week was a tough week with everything surrounding it, the implications of the game if we did lose the game, having to walk into the media room and deal with [reporters] if we did lose," Cutler said. "All those things weigh on you. So being able to move on from that, I think this week is a tougher week game-plan-wise for us, but we should be up for the challenge Sunday."
The Bears (8-6) will visit the Eagles (8-6) Sunday night, looking to at least maintain their playoff destiny. While more is at stake with each passing week-coach Marc Trestman said: "The more you win, the bigger the game"-Cutler couldn't be in a better frame of mind.
"I feel pretty good," he said. "I feel kind of at ease. We've got a real good plan this week I think. The guys on offense are playing at about as high of a level as I think you could play around me, so it makes it easy for me. Just find the open guy. The offensive line has done a great job all year and they're still doing a great job of protecting me."
Cutler is proud of how the Bears responded to last week's quarterback controversy. Asked by a reporter Thursday why he acknowledged all the "noise" outside Halas Hall, Cutler said: "Because you guys asked about it. I think it would be foolish just to lie and say we weren't aware of it.
"That's unreasonable. Everyone's human in this building. Another reason to acknowledge it is the guys did such a great job of handling it. We were able to hear it, deal with it in our own certain way and move on and  get the job done on Sunday."
Fingers crossed: Bears coach Marc Trestman remained hopeful that linebacker Lance Briggs will play Sunday night after he practiced on a limited basis Thursday for the second straight day. Briggs has missed the last seven games with a fractured shoulder he sustained Oct. 20 in Washington.
"Lance worked again today with the first group and looks to continue to progress," Trestman said. "We'll see where he is tomorrow. We're excited about that.
"It looks like we're moving in the right direction. I stand by being optimistic. You've always got to be cautiously optimistic because you don't know what the next day is going to bring, but based on the first two days of practice, we're really hopeful that he'll be able to play on Sunday night."
Briggs told reporters that he felt good to be back on the practice field and felt helpless when he was sidelined. In terms of his conditioning, he knows that if he's cleared to play it will be a challenge facing an up-tempo Eagles offense.
"It's going to be strap-it-on and see what happens," Briggs said. "I've been playing football for a long time and it just so happens that we're going against a team that runs 80 plays a game offensively, so that'll be interesting."
Brandon back: Receiver Brandon Marshall practiced on a limited basis Thursday after sitting out Wednesday's workout as a precaution with a sore quad muscle.
"It's the time of the season when you're a little bit beat up and the games start to wear on you and you have to keep fighting through it," said offensive coordinator Aaron Kromer. "That's where he's at right now. I think he'll be fine for the game. We'll see. But he did a good job today."
"I'm sure he'll get a little bit more tomorrow," Trestman said. "He got a little bit more today than he did yesterday. Just trying to take care of him and his legs as we move into the weekend."
Roster move: The Bears on Thursday re-signed safety Sean Cattouse to the practice squad. The first-year pro had been waived on Tuesday. Cattouse played on special teams Dec. 1 against the Vikings after spending the first eight weeks of the season on the practice squad.