Reuniting with Pro Bowl receiver Brandon Marshall this season has motivated quarterback Jay Cutler.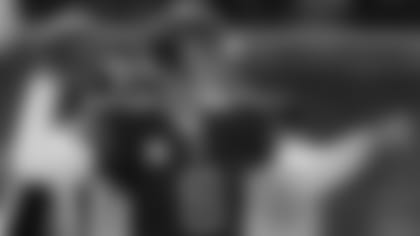 Jay Cutler is in his fourth season with the Bears.
"I don't want to disappoint him, so I have to raise my level of game," Cutler told Jeff Joniak in the latest edition of the Bears Confidential video feature on ChicagoBears.com.
"I don't want to miss him. I don't want to miss opportunities for him to make a big play. But you need 11 of those guys. At the end of the day, they're going to do whatever it takes to get the job done. They don't want to leave a play out there on the field."
Cutler and Marshall formed a close bond and developed into Pro Bowlers while playing their first three NFL seasons together with the Denver Broncos from 2006-08.
As Cutler's primary target, Marshall caught 102 passes for 1,325 yards and seven touchdowns in 2007 and had 104 receptions for 1,265 yards and 6 TDs in 2008.
In his first season with the Bears, Marshall leads the NFL with a team-record and career-high 107 receptions for 1,398 yards and 10 touchdowns.
Cutler also discussed playing for one of the league's founding franchises.
"It's flown by; I can't believe it's already four years," Cutler said. "I don't think you really get a chance to think about it or reflect on it until you're done.
"But I take a lot of pride in what I do and playing for the Bears and playing for this town. I know how much Bear football means to the city of Chicago. It means the same to me."