Speaking to reporters Tuesday for the first time since Sunday's 41-3 throttling of the Jacksonville Jaguars, Mike Tice praised quarterback Jay Cutler and the Bears offensive line.
"I thought the quarterback was outstanding on the line of scrimmage, getting us to the plays that we wanted to get to," said the first-year offensive coordinator. "I felt like the line had their best game and probably the most physical I've seen them play since I've been here in three years."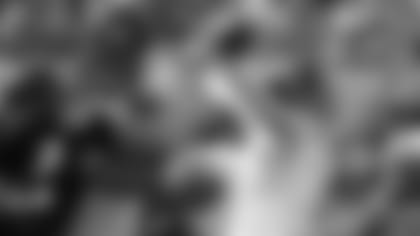 Right tackle Gabe Carimi provides pass protection for Jay Cutler in Sunday's win over the Jaguars.
After producing only three points in the first half, the Bears generated a field goal and three touchdowns on four second-half possessions in hot and humid conditions. It was 88 degrees at kickoff, making it the hottest Bears game since a 2000 contest in Tampa when it was 89.

"It was a tough first half," Tice said. "The heat got to us a little bit and we misfired on some things and we were just off on some other things. Guys went into the locker room and regrouped."

The Bears opened the second half with an impressive 17-play, 74-yard drive that burned 9:18 off the clock. But they had to settle for Robbie Gould's 31-yard field goal following back-to-back false start penalties on right tackle Gabe Carimi.

"I wish we would have finished out that drive in the third quarter, but we've got to eliminate those penalties down there in that red zone that kind of shoot you in the foot a little bit," Tice said.

Cutler completed 23 of 39 passes for 292 yards with two touchdowns, one interception and an 88.8 passer rating. His favorite target was Pro Bowl receiver Brandon Marshall, who had a season-high 12 receptions for 144 yards including a 24-yard TD.

Tice was especially impressed with how Cutler operated a no-huddle offense in the second quarter.

"I thought he did a great job with the no huddle," Tice said. "We are going to more of that. We like him managing the no-huddle. More than anything that gives the quarterback a little free rein out there or a little bit of focused free rein on the line of scrimmage."

The Bears offensive line controlled the line of scrimmage, allowing one sack and helping the rushing attack produce 214 yards, the third highest total in Lovie Smith's nine seasons as coach.

Asked if he's seen the line make a lot of progress since the start of the season, Tice said: "Oh, yeah, absolutely. I think everybody's seen that."

"If you look at how they've come along and how they're playing together, they're getting better at things each week," Tice said. "We felt like we would improve in the run game because of the things we've been doing in practice and the sled work and focusing on those things in practice, the hands. And [pass] protection has just gotten better each and every week."

The 501 total yards the Bears amassed in Jacksonville was their most in a game since 1989 when they had 542 in a win over the Lions at Soldier Field. Matt Forte rushed for 107 yards on 22 carries, teaming with Marshall to give the Bears a 100-yard rusher and receiver for the first time since 2006 when Thomas Jones and Muhsin Muhammad accomplished the feat in a win over the Giants.

Michael Bush rushed for 26 yards on four carries and Armando Allen placed an exclamation point on the Bears' most lopsided win since a 44-0 drubbing of the Cowboys in 1985 with a 46-yard touchdown run late in the fourth quarter.

"It was nice to see the balance," Tice said. "It was nice to see Jay throw the ball so well and it was nice to see the line block the pass and the run. It was nice to see Matt back with some juice and Michael hit it up in there and then Armando close it out. I was pleased for all the guys. They did a nice job. Coaches did a great job; they put a great plan together."

Tice hopes the offense will build off its performance in Jacksonville on Oct. 22 when the Bears host the Lions on Monday Night Football following this weekend's bye.

"I was pleased with the improvement," Tice said. "Now we've got to take another step because we're playing a really doggone good team when we come out of this bye.

"We've got to start better than we're starting. We're improving on third down. We're improving running the football, but again we have a really good opponent coming up and we have to hone up the things right now that we're not good at, and each week it's something. We have to get better at something each week."