The Bears kicked off their voluntary offseason program this week at Halas Hall, but it wasn't the first time key members of the 2016 team worked together.
Quarterback Jay Cutler organized a gathering of skill-position players last Tuesday through Thursday in Nashville to help strengthen their bond on and off the field.
Thirteen members of the Bears offense worked out at Vanderbilt University—Cutler's alma mater—lifting weights and running pass routes. They also dined together and engaged in team-building activities to further develop camaraderie.
"Your bond just grows," said tight end Zach Miller. "We work with each other every day and play football with each other every day. But when you actually hang out, when you've actually built friendships, it makes that bond greater. It makes you want to work harder for the guy right next to you. I think it definitely helps transition into football."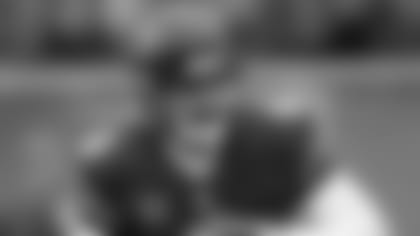 Quarterback Jay Cutler organized a gathering of skill-position players last Tuesday through Thursday in Nashville.


In addition to Cutler and Miller, other players who participated were quarterbacks David Fales and Matt Blanchard; receivers Kevin White, Marquess Wilson, Marc Mariani, Cameron Meredith and Deonte Thompson; running backs Jeremy Langford, Ka'Deem Carey and Jacquizz Rodgers; and tight end Khari Lee.
"It was a great experience," Mariani said. "It was nice to be able to get some work in. But it was also fun to see the guys and get out of the normal Halas Hall grind of when we come to work and get everyone together outside of the building and do some fun stuff."
One of the activities was a home run derby at Vanderbilt. Rumor has it that only the quarterbacks went deep and Cutler impressively hit homers from both sides of the plate.
Another activity was visiting "The Escape Game," a new entertainment concept that fosters team-building by giving a group of people 60 minutes to escape from a locked room by working together to solve puzzles and find clues.
"It was great," Mariani said. "Everyone enjoyed it. It's one of those things where you're looking at it on the itinerary and you're [thinking], 'What the hell is this going to be?' And then it turned out to be an awesome event. Guys liked it."
The Bears players successfully escaped from the locked room with only minutes to spare.
"That was fun," Carey said. "We really bonded in that room. That was actually the start of our little connection that we had. They boxed us in a room. We had to find clues and really work as a team to do it. When we accomplished it, we were pumped. Everyone was jumping, celebrating and clapping hands."
It won't be easy to measure in terms of wins and losses, but the players who worked together last week in Nashville believe that the experience will help translate into success on the field this season.
"We spend so much time together I think those kind of moments are just huge," Mariani said. "Good teams and good organizations have guys that buy in and enjoy working with each other and push each other. We already have that—we have a lot of that—but those kind of small experiences I think will benefit us not just in the short run but in the long run as well just building us together as a team."
The players who participated were thankful to Cutler for organizing the get-together.
"It just speaks to the type of guy he is and his leadership role on the team now," Miller said. "He's really embraced it. For him to reach out to all of us and gather a group of guys, it just says a lot about what he wants to do with this football team and what he thinks is important."