Bears quarterback Jay Cutler returned to the practice field Thursday for the first time since sustaining a concussion Nov. 11 against the Texans, working out on a limited basis.
Coach Lovie Smith said that "it's looking better" for Cutler to start Sunday's home game against the Vikings, though the quarterback must be cleared by an independent neurologist to play.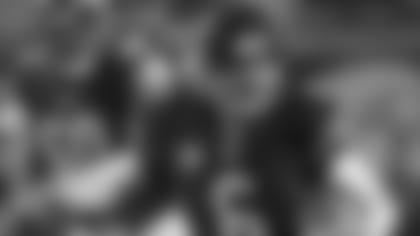 Jay Cutler led the Bears to a 7-2 record before missing Monday night's loss to the 49ers with a concussion he suffered against the Texans.

The Bears on Thursday moved offensive lineman Chilo Rachal from the reserve/left squad list to the reserve/non-football injury list, meaning he's ineligible to play the rest of the season.

Rachal, who started the first eight games of the year at left guard, left the team Wednesday due to personal reasons.

"We have other options," Smith said. "Team-wise, you have to look at it as an injury. Guys go down and it's always about the next guy stepping up, and that's where we are."

The most logical replacement for Rachal is Chris Spencer, an eight-year veteran who started the first two games of the season at left guard before being supplanted by Rachal. The Bears also could consider Edwin Williams, who has been inactive in the first 10 games this season.

Veteran Jonathan Scott told reporters that he took the majority of first-team reps at right tackle Thursday, but also said that he has not been informed he will start against the Vikings.

"Not at this moment," Scott said. "But the one thing I've learned in this league and over the years is you always have got to prepare for such and I'm going to put myself in a position to be prepared and be ready.

"Today [it was about] just getting in the flow of things, getting the mesh with the other guys. We're five interchangeable parts working as one, so I just have to be on their page, on the same page. I'm excited for any direction it may go."

Smith declined to speculate about the possibility of Scott replacing Gabe Carimi against Minnesota, focusing instead on rebounding from Monday night's 32-7 loss in San Francisco, a game in which the offense yielded six sacks and mustered a season-low 143 total yards.

"We don't talk about things like that as you know," Smith said. "I know the offensive line is excited about playing again. Whenever you play the way we did, you want to get back on the football field and play another game, and that's where we are."

In other injury news, tight end Kellen Davis (ankle) did not practice Thursday and receiver Brandon Marshall (shoulder), quarterback Jason Campbell (ribs), and defensive tackles Stephen Paea (shoulder) and Matt Toeaina (calf) were limited.

Defensive end Shea McClellin, who missed Monday night's game with a concussion he sustained against the Texans, practiced without restrictions, as did linebacker Lance Briggs (thumb), guard Lance Louis (ankle) and defensive end Julius Peppers (thigh).

For the Vikings, receiver Percy Harvin (ankle) and guard Charlie Johnson (toe) did not practice Thursday, while defensive tackle Letroy Guion (foot), receiver Michael Jenkins (foot) and cornerback Antoine Winfield (knee) were limited.

Also on Thursday, the Bears signed guard Chris Riley to the practice squad. The 6-5, 305-pounder entered the NFL with the Bengals in 2011 as an undrafted free agent from Illinois State. He spent most of his rookie season on the Buccaneers' practice squad.