Jay Cutler was amused but definitely not shocked when Bears teammate Brandon Marshall announced his contract extension during an appearance on ABC's "The View" in May.
"I don't think many people knew what was going on or when he was going to do it," Cutler said. "[But] it doesn't surprise me. Brandon has his way of doing things that have never been done."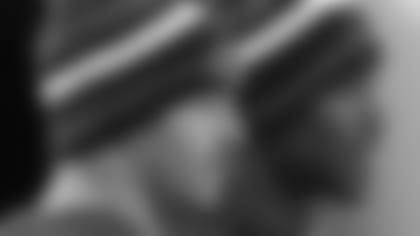 Jay Cutler and Brandon Marshall are entering their sixth season together as NFL teammates.
That's also true in terms of what Marshall has achieved on the field. In 2012, the 6-4, 230-pounder set Bears records and career highs with 118 receptions and 1,508 yards. Last year he became the first player in franchise history with multiple 100-catch seasons when he compiled 100 receptions for 1,295 yards and 12 touchdowns.
After signing his new three-year deal, Marshall acknowledged that the 2012 trade that sent him from the Dolphins to the Bears was "life-saving and career-saving" in part because it reunited him with Cutler, his teammate with the Denver Broncos from 2006-08.
"I wanted to be back with Jay," Marshall said last month. "I wanted to be in Chicago. I didn't even know anything about the history to be honest. I didn't even know anything about how great this city was, but I wanted to be back with Jay."
Cutler was just as excited about the reunion and was thrilled to hear about Marshall's extension.
"I think it was a little touch-and-go there for a while, but I think [general manager] Phil [Emery] did a great job of keeping everything together and working with Brandon and his agent," Cutler said.
"At the end of the day, everyone wanted him to stay here. The organization wanted him to stay here. Brandon wanted to stay here. We've got a great group of people—scouts, management and ownership upstairs. When they've got a good guy, they try to keep him around."
Building camaraderie: Cutler was among a large group of Bears players who spent time during the offseason at Marshall's home in Florida working out and taking part in team-building activities.
"I don't think we got as much football done as we wanted to in Florida, but that was OK," Cutler said. "We got to know some guys. We've got a lot of new players this year and we got some new guys down there, mixed with the guys that have been around, and that's what it was about.
"It's hard to simulate that once OTAs start and once minicamp starts and training camp starts because it's all football. It's hard to get to know the guys on an off-the-field basis like we did down in Florida."
Veteran leadership: Cutler appreciates the work that Marshall did in Florida at Fit Speed—a facility that Marshall co-owns—with young receivers Alshon Jeffery and Marquess Wilson.
"They do a lot of football, but they do a lot of stuff in the weight room," Cutler said. "Brandon's a physical specimen. All the things he does great on the field, he does a lot of things in the offseason preparing his body. Just showing 'Q' and Alshon what he does in the offseason, how hard he works and how dedicated he is to his craft, it means a lot."
Diaper dandy: Cutler said the highlight of his offseason occurred in early May when his wife, Kristin Cavallari, gave birth to their second son, Jaxon.
"Going from one to two is a little bit different," Cutler said. "You go from zone defense to man-to-man and now there's just zero free time. It's been hectic, but it's been fun."