Bears quarterback Jay Cutler will start Sunday's game against the Minnesota Vikings at Soldier Field after being cleared by an independent neurologist on Saturday.
Cutler sat out last Monday night's loss to the 49ers in San Francisco after sustaining a concussion Nov. 11 on an illegal helmet-to-helmet hit by Houston Texans linebacker Tim Dobbins.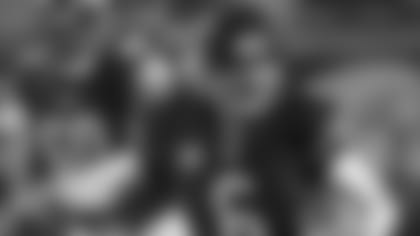 Jay Cutler will start Sunday's game after missing last Monday night's contest in San Francisco.
Backup Jason Campbell struggled in his first start of the season in San Francisco, completing 14 of 22 passes for 107 yards with one touchdown, two interceptions and a 52.7 passer rating.

In the past two seasons, the Bears are 14-5 and have scored 41 touchdowns on offense in Cutler's 19 starts and are 1-6 with only seven offensive TDs in seven games he has missed.

Cutler owns a 5-1 career record against the Vikings, having thrown for 1,364 yards with 15 touchdowns, six interceptions and a 100.8 passer rating. He's won his last four starts against Minnesota, passing for 971 yards with 12 TDs, four interceptions and a 104.4 rating.

The Bears (7-3) enter Week 12 tied with the Packers (7-3) atop the NFC North, one game ahead of the Vikings (6-4). Green Bay visits the New York Giants Sunday night.

Cutler will try to reenergize an offense that produced just one touchdown in back-to-back losses to the Texans and 49ers after generating four TDs in a 51-20 rout of the Tennessee Titans.

In their embarrassing 32-7 loss in San Francisco, the Bears mustered a season-low 143 total yards, yielded six sacks and crossed the 50-yard line on only two of 11 possessions.

After struggling against the 49ers, the offensive line will feature a new look Sunday. Chris Spencer is expected to start at left guard in place of Chilo Rachal, who left the team on Wednesday. In addition, Jonathan Scott took first-team reps at right tackle during the week in practice.

The Bears are looking for better results from their running game. After averaging at least 4.0 yards per carry in each of the first eight contests of the season, Matt Forte averaged 2.4 yards against the Texans and 3.0 versus the 49ers with a long run of only eight yards in both games.

The offense will play without rookie receiver Alshon Jeffery, who will be sidelined 2-4 weeks after undergoing arthroscopic knee surgery to repair an injury he sustained against the 49ers. The second-round pick had missed the previous four games with a hand injury.

The Bears will face a Vikings defense that ranks 13th in the NFL in total yards, 14th against the run and 16th versus the pass. The unit is led by defensive end Jared Allen, who has recorded a team-high seven sacks. Allen had 3.5 sacks in last year's season finale against the Bears in Minnesota.

The Bears defense, which has performed at an elite level for most of the season, will look to rebound from its worst outing of the year in San Francisco.

The unit was torched by quarterback Colin Kaepernick, who in his first NFL start led the 49ers to two touchdowns and two field goals on their first four possessions, completing 10 of 12 passes for 178 yards and one touchdown, including gains of 57, 32, 23, 22 and 20 yards.

The Bears defense will be challenged Sunday by Vikings running back Adrian Peterson, who leads the NFL in rushing with 1,128 yards and seven touchdowns on 195 carries.

Peterson averaged 122 yards in his first six games against the Bears, highlighted by a 224-yard effort in a 2007 contest in Chicago. But he's been held to 51 and 39 yards in the last two meetings.

Receiver Percy Harvin, who leads the Vikings with 62 receptions for 677 yards and 3 TDs, reportedly has been ruled out of Sunday's game due to an ankle injury.