KANSAS CITY – Quarterback Jay Cutler saved his best for last Sunday against the Chiefs, leading the Bears to an improbable comeback victory for the second straight week.
After the offense failed to score a touchdown on its first 10 possessions in Kansas City, Cutler threw two TD passes late in the fourth quarter to turn a 17-6 deficit into a stunning 18-17 win.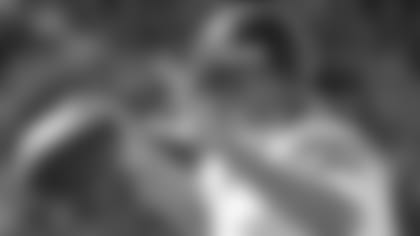 Quarterback Jay Cutler threw for two late touchdowns to lead the Bears to victory.


"Great guy. Great leader. He's the type of guy that never gives up," said receiver Marquess Wilson, whose 22-yard touchdown reception on a perfect throw from Cutler in the left corner of the end zone drew the Bears to within 17-12 with 3:05 remaining.
After missing only one game with a hamstring injury, Cutler returned last Sunday and rallied the Bears to a 22-20 victory over the Raiders at Soldier Field. The quarterback engineered a clutch two-minute drive capped by Robbie Gould's game-winning 49-yard field goal with :02 to play.
A week later in Kansas City, Cutler delivered an even more magical performance in leading an injury-depleted offense to two late touchdowns. The second came on a 7-yard pass to running back Kyle Long in the left corner of the end zone with :18 left.
"It seldom goes as smooth as you want," said coach John Fox. "I don't care who you are or what you do. But as long as you just keep battling and staying aggressive, not quitting—all the things that you kind of preach not even in just football but in life, he came through. He's done it two weeks in a row. I'm proud of him and proud of our whole football team."
Cutler led the Bears to the win despite missing injured starting receivers Alshon Jeffery and Eddie Royal as well as left tackle Jermon Bushrod and center Will Montgomery. With backup guard Patrick Omameh also sidelined, Matt Slauson returned to his natural left guard position and rookie Hroniss Grasu started at center. It was the third-round draft pick's first regular-season action after he was inactive in the first four games.
"Jay is the man," Slauson said. "When you go back and watch that last touchdown, you're going to see I whiffed on my guy. I was feeling good about that matchup all day. He was giving me the same move over and over and over, and I was just locking it down. And he switched it up for the last play and I whiffed and Jay just put up a fade-away jumper that was just a dime.
"That guy really is amazing. He hung in there through miscommunication. There were a lot of new guys in there today and he got hit a lot. But he is just a true pro and a stud."
Cutler completed 26 of 45 passes for 252 yards, two TDs, no interceptions and an 88.4 passer rating.
"He's just able to keep this offense balanced," Wilson said. "Whether we go three-and-out for a few drives or we come back and put points on the board, he's that kind of guy who's going to make us fight."
On his game-winning TD pass to Forte, Cutler dropped a decent shotgun snap from Grasu, calmly picked it up and lofted it right on the money to the running back.
"Jay put the ball only where I could really get it," Forte said. "He made a great throw, I went up and got it and I just wanted to hold onto it."