Given the commitment that Jay Cutler made from Day 1 with the Bears' new coaching staff, head coach John Fox isn't surprised that the quarterback has been performing at such a high level.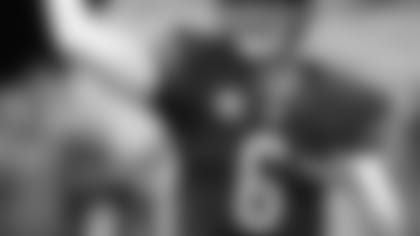 Jay Cutler has passed for 1,700 yards with 11 touchdowns, three interceptions and a 98.7 passer rating since Week 3.
Since missing a Week 3 loss in Seattle with a hamstring injury, Cutler has led the Bears to a 4-2 record by passing for 1,700 yards with 11 touchdowns, three interceptions and a 98.7 passer rating.
"I've seen him grow," Fox said. "I've seen him be all-in from when we first came here in the offseason. I think he's done a tremendous job. I've answered this question quite a few times, and I've never seen a guy work quite that hard.
"Buying into something and learning it, it takes countless hours. It's not just practice time or offseason conditioning time. He put a lot of extra time into it and it's always good to see people that worked really hard improve and reap the rewards of it."
After leading the NFL in turnovers last season, Cutler has not thrown multiple interceptions in a contest this year, an eight-game stretch that is the longest of his 10-year NFL career. His passer ratings over his last six starts have been 89.4, 88.4, 88.8, 94.4, 100.5 and 151.0.
"We've made some strides as far as our ball security in the pocket," said first-year offensive coordinator Adam Gase. "I think a lot of it has been he's getting the ball out quick. He's been decisive. There's no hesitation, and I think he and [quarterbacks coach] Dowell [Loggains] have done a great job within practice being conscious about it and working on drills to make sure that we're better in that area."
Familiarity factor: Gase spent the last six seasons with the Broncos, so he knows a thing or two about Denver's defense, which leads the NFL in total yards (277.3 per game) and sacks (32).
"I guess the one good thing about going against these guys is having some knowledge of the personnel," Gase said. "There's been a scheme change. But I think their attitude, you can see the swagger which they were developing last year. That was a good defense last year too.
"You can see the confidence. They are really enjoying playing with each other. They're physical. Once again, it's kind of like last week [against the Rams]. You are playing a team that doesn't have holes."
Scouting report: Gase worked closely in Denver with quarterback Brock Osweiler, who will make his first NFL start Sunday against the Bears in place of the injured Peyton Manning.
Gase, who served as Osweiler's position coach in 2012 and offensive coordinator in 2013-14, thinks the 6-8, 240-pound quarterback's top attributes are his arm strength and mobility.
"For a guy that size, he moves well," Gase said. "His toughness, his intelligence is off the charts. His work ethic. Those were the things we loved about him when he was coming out [of college] and I think he just kept growing in those areas as time went on. This is a good opportunity for him."
Injury update: Bears outside linebacker Pernell McPhee (knee), running back Kyle Long (knee) and receivers Alshon Jeffery (groin/shoulder) and Eddie Royal (knee) did not practice Thursday.
Forte, who has missed the last two games, sat out Thursday after being limited Wednesday. "He spent most of the afternoon getting treatment and we'll evaluate him tomorrow," Fox said.
Center Hroniss Grasu (neck), linebacker Shea McClellin (knee) and safety Antrel Rolle (ankle) all practiced on a limited basis Thursday for the second straight day.
Broncos outside linebacker DeMarcus Ware (back) sat out practice for the second day in a row. Ware, who leads Denver with 6.5 sacks, did not play in last Sunday's game against the Chiefs.