The following is the first of nine position previews in advance of training camp.*
When quarterback Jay Cutler steps on the practice field in Bourbonnais, he'll have a multitude of weapons at his disposal and a solid line in front of him—not to mention rare continuity on offense.
The unit returns all 11 starters after helping the Bears rank second in the NFL in 2013 with 445 points and setting franchise records with 6,109 total yards, 4,450 passing yards, 32 passing touchdowns, a 96.9 passer rating and 344 first downs.
"We have the same guys we had last year, which is always good," Cutler said. "Talent-wise it's hard to top our o-line and some of the guys we have on the outside and Matt Forte, who is hugely underrated. Talent-wise and being in the system two years and the way the guys work, all that adds up. Hopefully we can stay healthy and see where this thing goes."
Working with his fourth coordinator in five seasons with the Bears in 2013, Cutler posted a career-high 89.2 passer rating in 2013, completing 63.1 percent of his passes for 2,621 yards with 19 touchdowns and 12 interceptions in 11 games.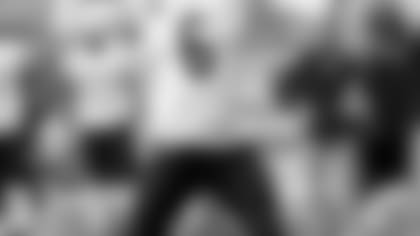 Jay Cutler tallied 2,621 yards and 19 touchdowns through 11 games played in 2013.
"Going into my ninth year, I think this is only the second or third time I've been in an offense multiple years," Cutler said. "We're still in the learning process, but guys have much more familiarity with what the concepts are and the formations and everything, so that's definitely going to be a help; less thinking and able to go fast."
Coach Marc Trestman feels that with a year in the system under his belt, Cutler will enjoy more flexibility at the line and be better equipped to put the offense in the best position to succeed.
"Each of these plays we have, there are a lot of different answers against a lot of different types of looks and coverages," Trestman said. "I think he's at a place now, because he's had so much experience on these plays, he can utilize the entire play to find the right answers."
In just five seasons with the Bears, Cutler has become the franchise's all-time leader in most passing categories with 1,258 completions, 2,090 attempts, 14,913 yards and an 83.1 rating. His record as a starter since arriving in 2009 via a blockbuster trade with the Broncos is 39-28.
While Cutler is firmly entrenched as the Bears' franchise quarterback after signing a seven-year extension Jan. 2, the backup position remains wide open heading into training camp with veterans Jordan Palmer and Jimmy Clausen and rookie David Fales set to compete for the job.
Palmer spent the final nine weeks of last season on the Bears' 53-man roster, but did not appear in a game. He has played in four NFL games during three seasons with the Bengals from 2008-10, completing 10 of 15 passes for 49 yards and two interceptions.
"I spent last year getting mental reps," Palmer said. "It may sound dumb to the average fan; how can you get a rep without getting a rep? But … we saw Josh [McCown] not get a rep during the season last year and come in and pick up as if he had been getting them. So there's a course of action to that, to getting reps with watching."
Clausen signed a one-year contract with the Bears June 5 and participated in the final two weeks
of the team's offseason program, concluding with a mandatory minicamp June 17-19.
"It's always tough when you get into a new system late and you're trying to learn the verbiage," said quarterbacks coach Matt Cavanaugh. "[But] because he has some years in the league, I don't think there are any schemes we're running that he is not familiar with."
Clausen joined the Bears after spending his first four NFL seasons with the Panthers. The former Notre Dame star has not appeared in a regular season game since his rookie year in 2010 and missed all of the 2013 campaign with a shoulder injury that required surgery.
"If you didn't tell me he didn't have surgery, I wouldn't know," said offensive coordinator Aaron Kromer. "He appears to be throwing the ball with enough velocity to complete passes."
Fales was selected by the Bears in the sixth round of the draft out of San Jose State, where he passed for 4,193 yards and 33 touchdowns in 2012 and 4,189 yards and 33 TDs in 2013.