Jay Cutler's 2012 debut will have to wait until next Saturday after coach Lovie Smith opted not to play the Bears starting quarterback in Thursday night's preseason opener against the Broncos.
Veteran quarterback Jason Campbell started in place of Cutler, whose fiancée, actress Kristen Cavallari, gave birth to the couple's first child, Camden Jack Cutler, Wednesday morning.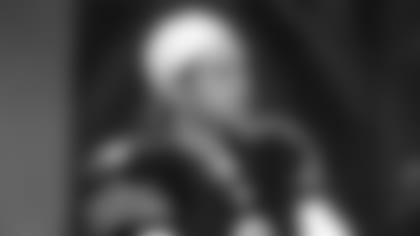 Jay Cutler stands on the Bears sideline during Thursday night's loss to Denver.
"He had a lot of things going on this week and we wanted to take a look at Jason with our first line and Josh [McCown]," coach Lovie Smith said following the Bears' 31-3 loss. "We wanted to take a look at Matt [Blanchard] also. So it wasn't really in the plan for Jay to go out there. He will get more reps this coming week."

Campbell, who completed 4 of 5 passes for 13 yards, wasn't surprised that he was called upon to start.

"We had talked about it on Tuesday that there might be a chance that I might play not knowing for sure which day Jay's baby was going to come out," Campbell said. "Of course, he still wanted to play, but we felt as a group and [Smith] made his decision that it was probably best [Cutler did not play]. This is an exciting time in his life and he really needed to take the time and enjoy."

Cutler's next opportunity to play comes next Saturday when the Bears host the Redskins at Soldier Field.

Brief appearance:Pro Bowl receiver Brandon Marshall exited after catching one pass for four yards on the Bears' first possession.

"It was fun," Marshall said. "I'm glad that I got the opportunity to come out here today and knock some rust off a little bit. I look forward to next week against the Redskins and get a couple more plays and hopefully move the ball a little bit more."

A long night: While most starters on both sides of the ball were pulled in the first quarter, left tackle J'Marcus Webb remained in the game until the fourth period.

"I don't think it was a punishment," Webb said. "I've got to get better and if [coordinator Mike Tice] asks me to stay in, then I will."

Swing tackle Chris Williams also saw a lot of action in Thursday night's game.

"Just some players we thought needed reps we needed to see," Smith said. "And our tackles are two of them and we wanted to get them a lot of reps as much as anything. Some of the guys we know a little more about right now we didn't play as much and that was pretty much it." [ ](http://www.phoenix.edu/campus-locations/il.html?utmsource=Story&utmmedium=instory&utmcampaign=300x100)
My bad: Running back Michael Bush accepted the blame for what appeared to be a perfect pitchout he fumbled in the first quarter from Campbell, his former Raiders teammate.
"He did a great job," Bush said. "That was just me not looking it in and trying to run and make a play before I got the ball. So one mistake as long as we get it out early we'll be fine."