CLEVELAND – With a national debate swirling outside Halas Hall about whether he should be replacing red-hot replacement Josh McCown, Jay Cutler admitted he felt pressure Sunday in Cleveland.
Back as Bears starting quarterback after missing the previous four games with a high ankle sprain, Cutler rebounded from two early interceptions to throw three touchdown passes in a 38-31 win over the Browns.
[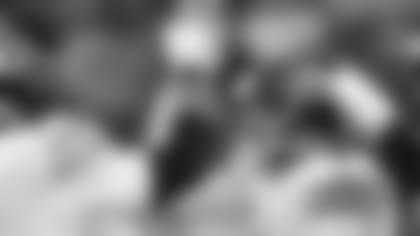 ](http://www.chicagobears.com/multimedia/photo-gallery/Browns-vs-Bears/64edfaaf-fe64-46f9-abb6-f0ca9d22f3cc)

Jay Cutler passed for 265 yards and three TDs in Sunday's win. Click to view photos from the game.
"I'd be lying if I didn't say there was [pressure], with everything on the outside and as well as Josh has played," Cutler said. "But this was the plan all along and no one really flinched in our building.
"Everyone kind of stuck to it. Josh was super supportive. [Coach Marc Trestman] did a great job and the guys out there on the field. They're a great group of guys. They rallied behind me when we started off a little bit slow. It was fun getting back out there with them and we're looking forward to moving on from this week."
Cutler ended up completing 22 of 31 passes for 265 yards and a 102.2 passer rating. But he was intercepted twice in the first half, both times by Browns safety TaShaun Gipson on passes intended for Brandon Marshall. Gipson returned the second one 44 yards for a touchdown.
"I can only imagine the commentators and the fans back at home after the first and second pick, what they were saying," Marshall said. "I'm sure they were ready to hang him."
Asked if he thought about replacing Cutler after the two interceptions, coach Marc Trestman said: "A lot of thoughts crossed my mind; that wasn't one of them. He was throwing the ball well enough and he's a strong enough guy to overcome it and he did. He did it with the help of his teammates.
"He had to handle a lot this week; probably more than at any time in his career for a number of different reasons. His teammates had his back the whole time and you have to be mentally tough to do what he did today, very mentally tough, not only to get through the week, but to get through a game in harsh weather and harsh conditions and throwing two picks in the first half, so it says a lot about the man."
Trestman credited offensive coordinator Aaron Kromer and quarterbacks coach Matt Cavanaugh with settling Cutler down after the rough start.
"I told him that we weren't going to change our game plan or play to protect him," Trestman said. "I think that the play-calling showed that throughout. Aaron and I made the decision to let it roll and I think you have to give a lot of credit to his teammates. They played hard for him today and had his back.
"He's a captain of this football team and he's elected captain of this football team. I'm sure that he would tell you that, not just the offensive guys, but throughout our football team, they stuck together and won for each other today. I thought it was a real good win for us."
Cutler helped rally the Bears by throwing touchdown passes on three of five possessions. He excelled on third down, completing 11 of 12 passes for 152 yards and 2 TDs.
Trestman knew that Cutler felt pressure heading into Sunday's game.
"I'm sure there was," said the Bears coach. "There was a lot of noise around us. We addressed the team about it, but the team stood strong and through the adversity, they embraced it. They didn't stop playing and we were very fortunate to get the win. Certainly, you don't lose three turnovers and necessarily win a game.
"Our defense was able to counteract that with a couple of pluses, but you have to be pretty strong to do that and I thought our football team did well in that environment today."