After intercepting two passes in Thursday night's win over the Dolphins, the Bears defense picked up in Saturday's practice where it left off at Soldier Field.
Inside linebacker Shea McClellin picked off a Jay Cutler pass, marking the first turnover by the Bears starting quarterback in 12 training camp practices.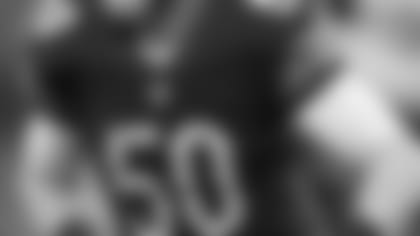 Shea McClellin was selected by the Bears in the first round of the 2012 NFL Draft.
"Linebackers finally got one, so that's good, and I finally got one as well," McClellin said. "I think it's good; you want to break that streak. You don't want to have no interceptions as a defense."
McClellin surprised Cutler on the play.
"I talked to him after and he said he didn't see me," McClellin said. "Just lying in the weeds there and saw the ball there and just grabbed it."
After playing defensive end in 2012-13 and outside linebacker in 2014 with the Bears, McClellin has been performing well at inside linebacker.
"He's getting better every day," said coach John Fox. "He's a kid who cares. He works very hard at it. It was a position switch for him early on, I think a good position switch at this point. But he continues to improve like we expect him to."
Alshon ailing: Receiver Alshon Jeffrey is not expected to play in next Saturday's preseason game against the Colts in Indianapolis due to a calf injury. But the Bears are confident that he will return in time to start their Sept. 13 regular-season opener against the Packers.
"He has a mild calf strain," said general manager Ryan Pace. "He's not going to participate versus Indianapolis. But this isn't a long-term injury with Alshon."
The Bears will conduct joint practices with the Colts in Indianapolis Wednesday and Thursday in advance of their preseason game at Lucas Oil Stadium. The workouts are not open to the public.
Moving up: Rookie safety Adrian Amos practiced with the No. 1 defense Saturday, supplanting second-year pro Brock Vereen at least for one day.
"[Amos] has had opportunities just like all the other safeties to play and be evaluated and make plays," Fox said. "He's earned where he is. I don't know if that's the way it'll stay. It's not where you start the race, it's where you finish it. He's earned that and we'll go from there."
Roster moves: The Bears on Saturday signed receiver Jeremy Kelley to a one-year contract and waived linebacker DeDe Lattimore.
Kelley spent time in the Canadian Football League with the Hamilton Tiger-Cats in 2011 and the Arena Football League with the Utah Blaze (2012), Pittsburgh Power (2014) and San Jose SaberCats (2015).
The 6-6, 231-pounder from Maine signed with the Colts in 2013 and spent the preseason with Indianapolis before being waived. He joined the Broncos last Dec. 30 and remained with Denver until being waived in May.